ELCA Advocacy Alert
Theological framework of reparations is topic of webinar this Wednesday, 2:30 PM Eastern Time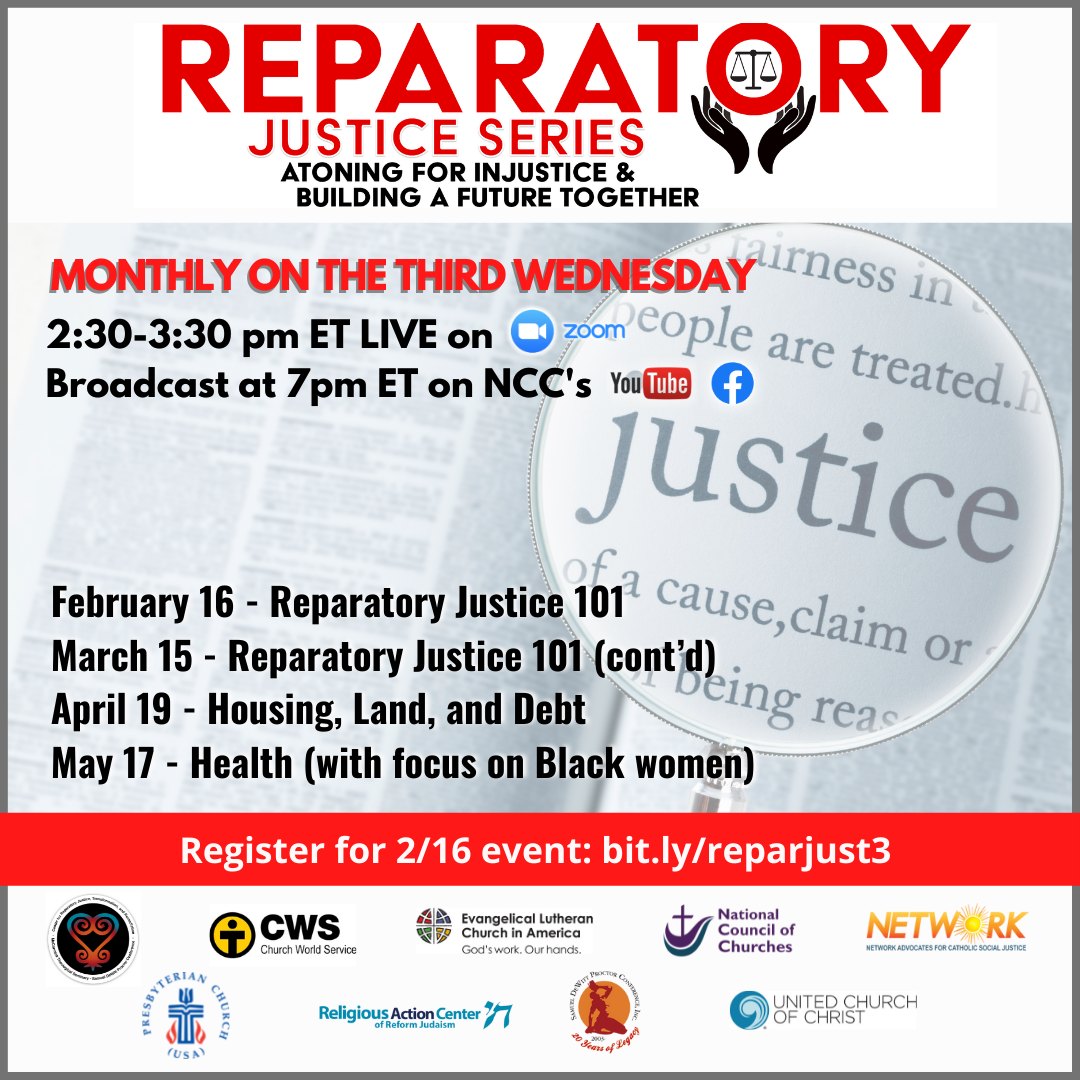 We invite you on Wednesday, Feb. 16th to Atoning for Injustice and Building A Future Together, a webinar with interreligious leaders as they discuss theological perspectives related to reparations for people of African Descent, and to ongoing advocacy opportunities to pass H.R. 40 to further study the issue in the United States.
The ELCA is part of the group hosting this monthly Wednesday webinar series from the interreligious Reparatory Justice Working Group, bringing together denominations and religious advocates as they share common reflections and experiences around the issue. The February webinar will provide a theological framework for the reparatory justice movement in general. This will include repair to re-create a just world and economy for all. Previous sessions in this series are available for viewing.
Hundreds of Lutherans last year called their lawmakers to pass H.R. 40, Commission to Study and Develop Reparation Proposals for African Americans Act, and to further examine the issue in the public square. You can still add your voice through our Action Alert.
This webinar opportunity and Action Alert are valuable ways to experience Black History Month, as is a new ELCA series, "Talks At the Desk," listening to diverse expressions of the church.
Register for Feb. 16 Reparatory Justice Series webinar here, and share with interested friends and your congregation today! https://bit.ly/reparjust3


---
(To view this email in your web browser, click here).

This email was sent to members and friends of the Evangelical Lutheran Church in America.
To update your email address or your communication preferences, please click here.
To ensure that you continue to receive these emails, please add us to your address book or safe list.

© Evangelical Lutheran Church in America, 8765 W Higgins Rd, Chicago, IL 60631 800-638-352
Home | Privacy Policy | Sign up for Action Alerts | Unsubscribe