Priority considerations in federal deliberation
The ELCA continues high-level advocacy with members of Congress, leadership and staff on making the child tax credit permanent along with other priorities as negotiations continue around both the bipartisan infrastructure legislation passed in the Senate and initiation of a multi-trillion budget reconciliation process in both chambers Advocacy program directors have also worked with interfaith partners to plan a livestreamed 12-hour vigil, "Keeping the Faith," on the U.S. Capitol grounds on Oct. 20 to raise awareness in Congress of these priorities.
More >>
Policy NOTES

Pivotal COP26
The ELCA is sending a delegation to the U.N. Framework Convention on Climate Change's Conference of the Parties (COP26) being held in Glasgow on Oct. 31-Nov. 12. COP26 will be the most significant since the COP21 adoption of the Paris Agreement, advancing achievement of the commitments.

COVIID-19 Vaccines
President Biden announced that the U.S. will donate an additional 500 million doses of Pfizer- BioNTech COVID-19 vaccines. This brings the U.S. commitments to donate vaccines to a total of 1.1 billion by fall 2022. The World Health Organization has said 2.4 billion are needed by the end of 2021.

Afghan Arrivals and Refugees
After intense pressure from advocates, the Administration mounted a coordinated response to support evacuations, screening, immigration services and general processing of Afghan arrivals from interim military installations to final destinations.

Border and Asylum Update
Thousands of migrants have attempted to seek legal asylum at the border over the past few months, but a public health authority known as Title 42 continues to be invoked. This issue came to a head when the Del Rio sector experienced an increase of Haitian migrants, including families with children and adults.
Action Alerts



*new* INDIAN BOARDING SCHOOL TRUTH AND HEALING NEEDED
Join religious and Indigenous leaders' call for Congress to advance a new commission and study on the devastating legacy of Indian Boarding Schools and develop meaningful steps to heal moving forward.
More >>



URGE HOUSING IN INFRASTRUCTURE DISCUSSIONS
This fall, as Congress continues to work on a historic new infrastructure package, it is an opportune moment to encourage our lawmakers to support greater access to affordable housing.
More >>





SUPPORT DISASTER RELIEF AND PREVENTION
Many of us in the U.S. and across the world know the effects of floods, hurricanes, tornadoes and wildfires. Our institutions and public policies need to be better prepared for this ongoing reality.
More >>





SUPPORT THE JOHN LEWIS VOTING RIGHTS ADVANCEMENT ACT
Join faith leaders in contacting Congress to pass the John Lewis Voting Rights Advancement Act (H.R.4), a key step in ensuring the voices of all citizens will be safeguarded and heard.

More >>



Featured Resources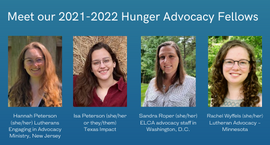 Blog: Introducing 2021-2022 Hunger Advocacy Fellows
The Hunger Advocacy Fellowship program, currently in its fifth year, is made possible by ELCA World Hunger. Meet young leaders presently engaging with a faith-based lens issues affecting local and national policy.

Learn more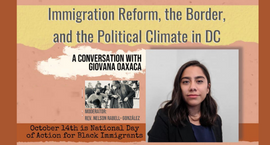 Video: Immigration Reform, the Border, and the Political Climate in DC
The Rev. Nelson Rabell-Gonzalez, pastor in the Sierra Pacific Synod, spoke informally with Giovana Oaxaca on National Day of Action for Black Migrants, Oct. 14, on many current immigration realities.

Learn more
Dates of Note


KEEP THE FAITH: VIGIL & PRESS CONFERENCE
From 7 a.m.-7 p.m. ET, listen live on Capitol Hill as speakers hosted by the Washington Interfaith Staff Community urge Congress to pass a Build Back Better package that prioritizes those most in need, aligning with the moral groundings of many faith traditions.


COP26
Faith leaders and communities can play a vital role in addressing climate change. Monitor #COP26 and pray for the ELCA delegation present for these crucial dialogues shaping urgent action. Congregation guidance available at ELCA.org/environment.