This issue of ELCA Advocacy Connections was prepared for distribution today, May 25. While these brief updates on activity in which our ELCA Witness in Society federal staff is engaged are never an expansion of national news or a complete picture, today especially we are aware they don't touch our corporate reflections, including on the horror of the shooting in Uvalde, Tex. and on observance of the second anniversary of the death of George Floyd. In our advocacy we continue to seek meaningful opportunities to support policies that increase gun safety. Federally at this moment, we anticipate an Executive Order today from President Biden to increase accountability and transparency in policing. The ELCA introduced in 2019 a 60-Day Journey Toward Justice in a Culture of Gun Violence which provides some resources for our prayer and action. In our work and ministry, and our individual discipled lives, may we turn to our Lord for comfort, guidance and strength, and steadfastly do all we can personally and publicly.
---

Op-ed on Criminal Justice Reform
Working together, Deacon Nick Bates of Hunger Ohio and ELCA federal advocacy staff crafted and pitched a piece to a Cleveland news source reflecting on policy before Congress and compassionate criminal justice. Each of us reading ELCA Advocacy Connections can make our voices heard, together representing a strong network of prayerful, concerned citizens living out our baptism in discipled lives.
More >>
Policy NOTES

International Policy Developments
The House of Representatives passed two bills that ELCA advocacy staff has been working on: the Global Malnutrition Prevention Act and the Burma Act of 2021. Thank you for your Lutheran voices of support. Advocacy attention now shifts to the Senate side to push for passage there.

Federal Indian Boarding School Report
The Department of the Interior released an investigative report laying the groundwork to address the trauma and legacy of federal Indian boarding school policies. The ELCA is committed to understanding the church's role and supporting healing for survivors, and an advocacy opportunity will soon be available.

Ukraine and Afghan Migrant Updates
The President shared his $33 billion request for more security and economic assistance for Ukraine, including the "Uniting for Ukraine" initiative. Notably, the request also includes an Afghan Adjustment Act. Attention now turns to Congress for passage.

Buffalo Mass Shooting
Advocacy continues to be part of our response to grief and anger again unveiled after the killing of 10 people in a racially motivated mass shooting at a Buffalo grocery store on May 14. As legislative responses surface in Congress, ELCA staff will make available outlets for our voices in the process.
Action Alerts



*new* HOUSING FIRST SIGN-ON
Congregations and other ministries are invited to join by May 30 a letter to Congress organized with the National Low Income Housing Coalition (in which the ELCA is a member) in support of the Housing First model, which has demonstrated a high statistical success rate.
Sign-on Form >>



SUPPORT AN AFGHAN ADJUSTMENT ACT
Congress must act now to pass the Afghan Adjustment Act to ensure Afghans seeking to make the United States their home can apply to become lawful permanent residents after one year.
More >>





*update* SUPPORT THE GLOBAL FIGHT AGAINST MALNUTRITION
The House of Representatives passed the Global Malnutrition Prevention and Treatment Act. Use our Action Alert as the bill reaches the Senate.
More >>





SUPPORT AUGUSTA VICTORIA HOSPITAL
Ask Congress to encourage the U.S. government to support AVH by helping to cover its cancer treatment costs for Palestinian patients from the West Bank and. Invite them to visit the hospital. More in letter from ELCA bishops.

More >>



Featured Resources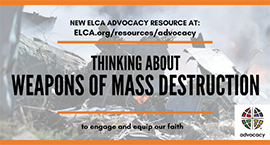 Resource: Thinking About Weapons of Mass Destruction
The capacity of nation-states to cause mass destruction in armed conflict brings with it the grave responsibility of engaging in moral deliberation. This resource gathers up ELCA teaching that can contribute.

Learn more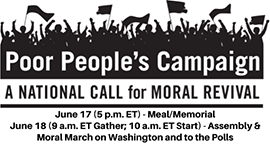 Event: Poor Peoples Campaign
The Deaconess Community of the ELCA invites you to participate with them in a meal the night before (meal signup) and the main March on Washington on June 18 as part of "A National Call for Moral Revival."

Learn more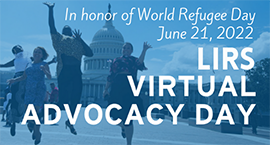 Event: LIRS Virtual Advocacy Days 2022
A virtual day of action for and with immigrants and refugees is being hosted by Lutheran Immigration and Refugee Service (LIRS) on June 21 in honor of in honor of World Refugee Day.

Learn more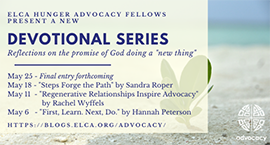 Blog: "New Thing" Devotional Series
Spend some time this spring reflecting on the promise of God doing a "new thing" (Isaiah 43) through the lens of ELCA Hunger Advocacy Fellows.

Learn more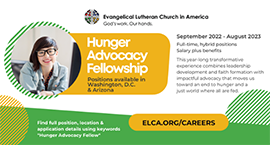 Job Opening: 2022-23 Hunger Advocacy Fellowships
Help connect passionate people with this opportunity in Arizona and D.C. that combines leadership development and faith formation with impactful advocacy. Promote sharing graphics on social media found from @ELCAadvocacy.

Learn more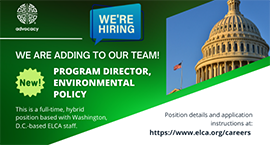 Job Opening: Program Director, Environmental Policy
Play a pivotal role guiding and carrying out the church's witness on public policy related to the environment, climate, energy, agriculture, rural development and sustainability.

Learn more
Resource: GWOH Advocacy in Service to Our Neighbor
In addition to advocacy ideas in the "God's work. Our hands" Sunday toolkit, how about using the occasion to send thank-you letters to elected officials! A template and tips for other letter topics are available.

Learn more
Dates of Note


Commemoration of the Emanuel Nine
ELCA relationship to the 2015 shooter, as well as two of the slain, reminds us of both our complicity and our calling as the ELCA commemorates the martyrdom of the Emanuel 9.


Juneteenth (federally observed 6/20/22)
Juneteenth marks the effective U.S. end of slavery, two years after signing of the Emancipation Proclamation when word disseminated through La. and Texas where enslavement had continued.