Summer Hunger
Federally funded Summer Meals begin this month and are served in local communities all over the country to low-income children who could lose reliable and healthy food during the school year. ELCA Advocacy will use this summer to bring awareness to the importance of the Summer Food Service Program and other hunger issues that affect our communities.
More >>
Policy NOTES

Dream Act
The Supreme Court said in June that it would review the Administration's decision to end the Deferred Action for Childhood Arrivals (DACA) program in its next term which begins in October. The DACA program, which affords protections to nearly 800,000 undocumented immigrants brought to the country as children, has been in temporary limbo as the case proceeded through the courts.

UN Climate Change Session
ELCA Advocacy attended the Bonn Climate Change Conference (SB50) in June. The UNFCCC Executive Secretary highlighted four numbers in her Global Climate Briefing: 1.5 (or less), 2050, 2030, and 2020.

FY20 Foreign Assistance Budget
The House of Representatives passed the International Affairs budget, which funds international anti-poverty programs. Compared to the FY19 enacted budget, the FY20 House bill increases by $2.2 billion (four percent). The House rejected President Trump's proposal to cut this budget by 24 percent.

Border Supplemental Signed
President Trump signed a $4.59 billion border aid package July 1 as border agencies such as Customs and Border Protection (CBP) have been under increased scrutiny for the treatment of migrants in detention facilities.
Action Alerts



URGE CONGRESS TO PASS THE GLOBAL FRAGILITY ACT
Now that the Senate Foreign Relations Committee has marked up their version, take action as it moves to a full floor vote, improving capacity to identify and address root causes of violent conflicts around the world.
More >>



SUPPORT THE EQUALITY ACT
The House has passed the Equality Act (H.R. 5). The bill would add "sexual orientation" and "gender identity" to the classes protected against discrimination by the Civil Rights Act of 1964.
More >>





SUPPORT AFFORDABLE HOUSING AND HOMELESS PROGRAMS
Support solutions that create safe shelter, put more food on the table for low-income families, and help end homelessness.
More >>





SECURE FUNDING FOR HUMAN AND JUST IMMIGRATION SYSTEM
Migrants should not be penalized for seeking a safer and better future for them and their families.

More >>



Featured Resources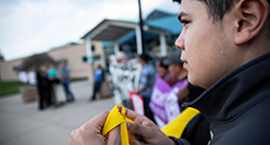 Blog: Responding to our sorrow with action
A compilation of resources as our communities brace for anticipated nationwide raids by U.S. Immigration and Customs Enforcement contains ways Lutherans have acted and can continue to respond.

Learn more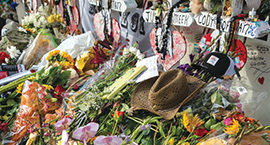 Blog: Not waiting for the next tragedy
As the ELCA embarks on "A 60-Day Journey Toward Justice in a Culture of Gun Violence," this ELCA Advocacy post shares a policy update. "As we watch and advocate for policy developments that will stem the proliferation of gun violence, the church has our lamps lit…"

Learn more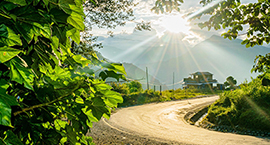 Resource & Blog: Talanoa Dialogue Process tool
A safe space that embraces mutual respect encourages advancement of decision making for a greater good. This is the design of a tool called the Talanoa that may help your congregation, group or community hear one another's voices on issues of our day.

Learn more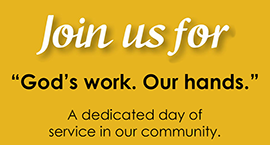 Resource: "God's work. Our hands." Advocacy - Ways to engage
Consider taking advocacy action on "God's Work. Our Hands." Sunday around issues that are important or relevant to your community, that are related to a service activity selected by the congregation, and/or with prepared letters from ELCA Advocacy.

Learn more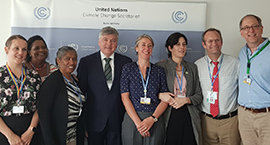 Blog: Let's get on with the how
"Love" was named by Gonzalo Muñoz, business entrepreneur and social change-maker at the forefront of environmental innovation in Chile, as a vital item in the toolbox required to move forward with climate solutions. More from the Bonn Climate Change Conference is shared in this post.

Learn more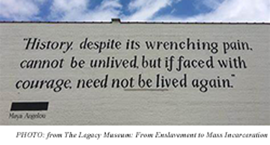 Blog: Celebrating Juneteenth - Remembering the Past While Looking Forward
On June 19, 1865 enslaved Africans in the state of Texas and parts of Louisiana received word of their emancipation 2.5 years later. Guest blogger Judith Roberts, ELCA Program Director for Racial Justice Ministries, shared views on Juneteenth this year.

Learn more
Dates of Note


ELCA World Hunger Leadership Gathering
Sharing ways creative congregations and courageous leaders contribute to a just world where all are fed.


August recess (traditional)
Check your lawmaker's website for possible in-district Town Hall opportunities - or consider setting up your own.