f

Policing reform
In June, the House passed the George Floyd Justice in Policing Act of 2020, including votes from three Republican members of Congress. This legislation included most of the recommendations suggested in a letter to Congress from the Leadership Conference on Civil and Human Rights, which the ELCA signed. The bill has currently stalled in the Senate, but advocates can still encourage lawmakers to pass important policies that would help improve just policing in our communities through the ELCA Action Center.
More >>
Policy NOTES

DACA update
The Supreme Court in June rejected the Trump administration's push to end the Deferred Action on Childhood Arrivals (DACA) program that gives nearly 700,000 recipients the ability to work in the U.S. and avoid deportation. Congressional action is still needed to provide permanent legal protection to DACA recipients and Temporary Protected Status (TPS) and Deferred Enforcement Departure (DED) holders who are living in a state of uncertainty.

Foreign aid
House appropriators have unveiled an international budget bill for Fiscal Year 2021, including $10 billion to respond to the pandemic through coronavirus preparedness, response and relief globally. ELCA Advocacy continues to push for inclusion of these fund expenditures to support developing countries.

Climate Crisis Action Plan
The House of Representative's Select Committee on Solving the Climate Crisis issued its long-awaited Climate Crisis Action Plan report on June 30 that recommends policies aimed at creating jobs and transitioning to renewable energy for fuels. Although not bipartisan, many of the report's provisions appear to be mutually acceptable and are likely to be the basis for future legislation.

Census 2020
At this time, only around 62% of households have self-responded to the 2020 Census online, by mail or by phone. Census takers are scheduled to begin in-person interviewing of households that have not yet responded, starting July 16. Let's help keep door-to-door visits minimal. Take the 2020 Census now and urge your community to do so too – for your neighbor and yourself.
Action Alerts



*new & now* PROTECT OUR ASYLUM SYSTEM
July 15 is the deadline to make public comment on a rule proposed by the administration that would effectively end asylum, a form of protection meant to give refuge to people fleeing for their lives.
More >>



ENSURE LASTING PROTECTION FOR YOUNG ADULTS KNOWN AS DREAMERS
Legislation would provide conditional permanent resident status and a road map to eventual U.S. citizenship for these young people.
More >>





TAKE ACTION ON POLICING REFORM
House and Senate members have introduced urgent and meaningful policing reforms, and we can raise our voices in support of these needed reforms.
More >>





TAKE ACTION ON THE NEXT CORONAVIRUS SUPPLEMENTAL BILL
Congress is considering a new supplemental package to address the economic impacts of COVID-19.
More >>



Featured Resources
Resource: Virtual Visits

More widely in use during the coronavirus pandemic, but an effective option at other times too, members of Congress, state lawmakers, community boards and local officials still conduct virtual meetings with constituents, recognizing the need to connect.

Learn more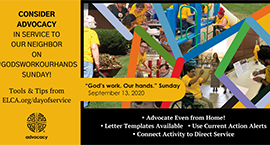 Resource: "God's work. Our hands." Sunday Toolkit

Advocacy action is not dependent upon physical proximity and is a faithful way to serve our neighbors. Find specific ideas for advocacy in the toolkit.

Learn more
Blog: Voter Suppression Damage Requires Challenge

"Part of being the church for the sake of the world in 2020 is to encourage and advocate for fair elections and the right to vote," writes a guest blogger from North Carolina.

Learn more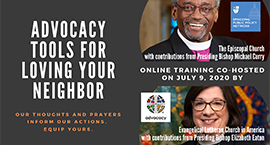 Video: Advocacy Tools for Loving Our Neighbor

A recording of an online training event jointly hosted by The Episcopal Church and the ELCA explores the nature of faith-based advocacy, issues to which we can speak and ways we can make our voices heard.

Learn more
Dates of Note


americans with disabilities act anniversary
ADA is celebrating 30 years of progress in access and inclusion. ELCA Disability Ministry helps us connect all into full participation.


AUGUST RECESS
Most years, the U.S. Congress recesses in August. Use our "August Recess Guide" for ideas to engage with elected officials locally in this window.
More >>