COVID-19 stimulus
At $2.2 trillion, the revised "HEROES Act" which passed the House on Oct. 1 is not expected to go further as bipartisan talks have broken down. Through the Circle of Protection, the ELCA successfully advocated for an extension of the Pandemic-EBT program through September 2021, a significant new tool for preventing childhood hunger. Additionally, Presiding Bishop Elizabeth Eaton joined a letter to Congress and the Administration urging swift approval of a COVID relief package that prioritizes those most at risk of hunger at home and abroad.
More >>
Policy NOTES

Refugee admissions goal
On the evening of Sept. 30, the Administration announced its new annual refugee admissions goal: a ceiling of 15,000 refugees, which is the lowest target in the history of the U.S. Refugee Admissions Program. A letter signed by 243 bishops and other rostered ministers called for resettlement of 95,000 refugees, the historic norm, delivered through Lutheran Immigration and Refugee Service (LIRS).

TPS uncertainty
A preliminary injunction blocking the termination of Temporary Protected Status (TPS) for people from El Salvador, Haiti, Nicaragua and Sudan has been lifted by a Sept. 14 decision in Ramos v. Wolf. The toll on families is extreme as Deferred Action for Childhood Arrivals (DACA) and TPS recipients live in a perpetual state of limbo and fear of being returned to countries mired in social and political crises.

Election 2020 is here!
Factual, nonpartisan information from reliable sources is valuable as the 2020 election cycle advances to Nov. 3. Share ELCAvotes posts from @ELCAadvocacy on social media in your circles (new posts on Wednesdays plus archived posts available). The ELCAvotes initiative stems from 2013 Churchwide Assembly action and is led by ELCA Advocacy, Racial Justice Ministries, and Young Adult Ministry.

Welcome new leaders
Despite the challenges of getting started from one's home base and device connection, new additions have been welcomed to advocacy staff. Giovana Oaxaca will bring leadership through the position of Policy Director for Migration; and three Hunger Advocacy Fellows have begun service. These enthusiastic and gifted young adults are Taina Diaz-Reyes, Larry Herrold and Kyle Minden.
Action Alerts



*update* PRESS FOR AMERICAN DREAM AND PROMISE ACT
Legal challenge to Temporary Protected Status designation for people from El Salvador, Haiti, Nicaragua and Sudan pushes need for pathway to citizenship.
More >>



*new* TAKE ACTION TO PREVENT AN EVICTION CRISIS
Compounding circumstances are shaping a potential near-future eviction crisis in our communities that must be prevented.
More >>





TAKE ACTION ON THE NEXT CORONAVIRUS SUPPLEMENTAL BILL
Congress is considering a new supplemental package to address the economic impacts of COVID-19. Timing and content matter.
More >>





*update* PROTECTIONS FOR WOMEN AND GIRLS IN HUMANITARIAN CRISES
Initiatives such as Safe from the Start move gender-based violence at the onset of humanitarian emergencies to the forefront of humanitarian work.


Featured Resources
Blog: Sifting through misinformation
"Audiences that mostly consume mainstream media see far more false insider stories and conspiracy theories than they might realize," quotes the blog post. So what can we do about it?

Learn more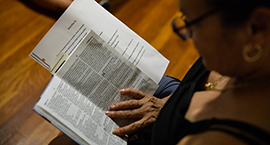 Bible Study: Suffering and Rejoicing As One
This single-session discussion guide for individuals or small groups considers civic commitment as people of faith in light of 1 Corinthians 12:21-26.

Learn more
Blog: International COVID-19 relief – why we should commit
As the U.S. Congress debates how to assist its citizens through the pandemic, Lutherans know that whatever is happening on U.S. soil is happening elsewhere in the world, in many cases amplified.

Learn more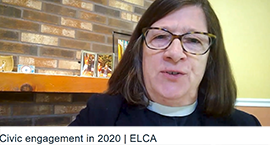 Video: Civic engagement in 2020
Presiding Bishop Elizabeth Eaton discusses the importance of voting and the relationship our church has with civic engagement both before and after the upcoming election in new video.

Learn more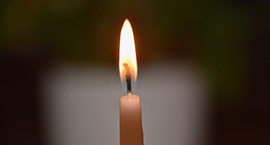 Resource: Worship Resources for a National Election (from ELCA Worship)
In the weeks preceding or following an election, for devotions at home or in other settings, these readings, prayers and assembly song suggestions are gathered.

Learn more
Resource: Called to be political (from Women of the ELCA)
Looking at personal reflections of Lutheran women, the Bible and the writings of Martin Luther, fears or questions about our church's involvement in the political arena are explored.

Learn more
Dates of Note


REFORMATION DAY
Martin Luther's treatise, "The Freedom of a Christian," speaks of how God liberates us in Christ to live generously and courageously in service of our neighbor's liberation, confident that God's mercy will free us all. Why not read it on its 500th anniversary!


ELECTION DAY
Make a plan to vote - and check that your neighbors do too! "This church also strongly affirms voting, guided by faith-based values, as an exercise in citizenship," reads the ELCA social message "Government and Civic Engagement in the United States: Discipleship in a Democracy."