Election 2020 and ELCAvotes
In synods and congregations, through leaders and members, and with ELCA advocacy tools, faith-informed civic engagement has been lively in this unique 2020 election season. ELCA Advocacy staff continues monitoring post-election activity as states with narrow margins could see recounting efforts, protests or litigation over the coming days. Following election season, staff will prepare engagement plans with newly elected members of Congress and will finalize policy priorities for the 117th Congress in 2021.
More >>
Policy NOTES

COVID-19 stimulus and other "lame duck" session activity
An additional COVID-19 relief package urgently must be decided by lawmakers before the holidays and adjournment as a bulwark against economic and health hardships for vulnerable and hungry people. Use our Action Alert (below) to use your voice! All appropriations bills are also now being considered by the Senate.

Official Paris Climate Agreement withdrawal
On Nov. 4, the U.S. officially left the Paris Climate Agreement. "By exiting the Agreement, the current administration has abdicated its responsibility to work with the rest of the world to tackle the climate crisis," reads a statement from We Are Still In with which the ELCA participates.

Atrocity prevention
The ELCA continues to advocate within the U.S. government for strengthening of atrocity prevention programs. Use your voice to advocate for the Safe from the Start Act particularly, which expands the ability of the U.S. government to prevent gender-based violence at the onset of humanitarian emergencies.

Presidential determination on refugees
President Trump signed a Presidential Determination on refugees on Oct. 27, authorizing a goal for FY21 of only 15,000 people. The new admissions goal is an 18% reduction from the FY20 goal of 18,000, an 80% cut from the historic norm and the lowest target in the history of the U.S. Refugee Admissions Program.
Action Alerts



TAKE ACTION ON THE NEXT CORONAVIRUS SUPPLEMENTAL BILL
Urgent work must be done by Congress to address the COVID-19 pandemic. Our voices are needed more than ever to urge completion of bi-partisan negotiations before the holidays and congressional adjournment.
More >>



*new* REAUTHORIZE VAWA INCLUDING STRONG PROVISIONS FOR NATIVE WOMEN
Violence Against Women Act funds shelters and crisis centers, supports a national hotline for victims, and trains law enforcement to better investigate violence against women and offer support to survivors and needs to be reauthorized.
More >>





TAKE ACTION TO PREVENT AN EVICTION CRISIS
If Congress does not act before the CDC Eviction Moratorium expires on December 31st, many of us will be at dire risk of eviction at the start of next year. Regardless of precipitating reason - like disaster migration or pandemic-related economic strain - support can't be delayed any longer.
More >>





PRESS FOR AMERICAN DREAM AND PROMISE ACT
The toll on families is extreme as Deferred Action for Childhood Arrivals (DACA) and Temporary Protected Status (TPS) recipients live in a perpetual state of limbo and fear of being returned to countries mired in social and political crises.

More >>



Featured Resources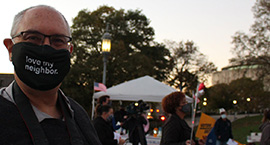 Blog: From ELCAvotes to discipleship in a democracy
Enthusiasm and responsibility for voting were relayed in the 2020 election - and it shows us why seasonal engagement is not enough. "The ELCA holds to the biblical idea that God calls God's people to be active citizens and to ensure that everyone benefits from the good of government."

Learn more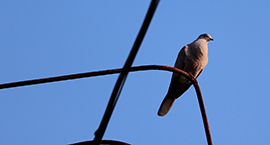 Blog: Election Fears & Global Church Wisdom
"This is the time for ELCA members to draw lessons from the ecumenical movement, in particular the Lutheran churches worldwide that have been promoting peace and working to prevent conflict for more than six decades. As churches, we have always been inspired by the rich tradition of peace, love, reconciliation and justice," says Lutheran Office for World Community staffer.

Learn more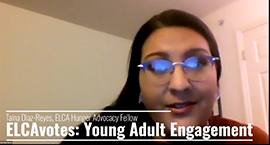 Video: ELCAvotes young adult engagement
Promoting and learning from young adult civic engagement and encouraging new voters are valuable activities in our communities and congregations, shares ELCA Hunger Advocacy Fellow Taina Diaz-Reyes in a short webinar excerpt posted to social media.

Learn more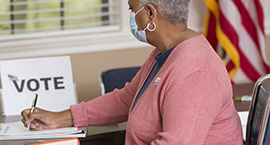 Blog: Dialogue with persons with disabilities
"We are a nation of many people who are more alike than different. Inviting someone and listening, rather than acting charitably, may be the best way for you to help someone living with a disability serve their country as a voter," writes guest blogger.

Learn more
Dates of Note


HUNGER FREE COMMUNITIES VIRTUAL SUMMIT
Learning and taking action on the changing landscape of hunger and building resilient American communities is hosted by the Alliance to End Hunger in which the ELCA is a member.


MEETING OF THE ELECTORS
The electors meet in each state and cast their ballots for president and vice president. The U.S. Congress meets in joint session to count the electoral votes on Jan. 6, 2021.