Policy NOTES

Spending decisions
It is decision-making crunch time for federal FY21 budget considerations before the 116th Congress adjourns for the holidays and furthermore concludes on Jan. 3, 2021. Congress approved $900 billion of relief late on Dec. 21, providing desperately needed aid for Americans after months of gridlock on Capitol Hill. The bill now heads to the White House, where President Trump is expected to sign it into law.

Eviction crisis
The stimulus package passed by Congress late Monday includes an extension of a national eviction ban through Jan. 31, temporarily avoiding what housing advocates warned would be a dangerous situation for the U.S. amid the raging COVID-19 pandemic. Economists and affordable housing advocates have warned of a looming eviction crisis that could affect millions of Americans without action. Enhanced Unemployment Insurance benefits and other measures will blunt some of the heavy economic impacts of the pandemic.

Census challenge
On Dec. 18, the Supreme Court dismissed one of the challenges to President Trump's memorandum ordering the U.S. Census Bureau to discount undocumented immigrants from the final census, which is to be reported by the Census Bureau by Dec. 31, 2020. Failing to count every person who lives in each state would affect the process of apportionment which decides congressional seat allocation for states.

Climate change connections
The incoming Biden Administration indicates that it will make climate change an unprecedented high priority. Addressing climate change will be done in concert with addressing the economy, yoking as essential growing the economy simultaneously with addressing climate concerns.
Action Alerts



THANK YOU
Through the ELCA Advocacy network, almost 20,000 messages were sent to Congress or the Administration in 2020. Thank you for putting your concerns, convictions and experiences into action.

SIGN-UPS
Faith-informed voices make a difference! Invite others, including your congregation community, to receive advocacy updates and invitations to action at impactful moments.



ACTION CENTER
Did you know you can find active Action Alerts anytime in the Action Center? ELCA Advocacy network members are notified of new opportunities, but all are welcome to use these tools.



PEACE NOT WALLS - DECEMBER
This Advent season, urge Congress to work with the incoming presidential administration for a just peace in the Holy Land.


Featured Resources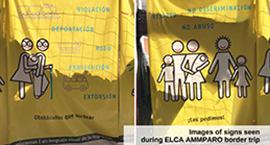 Blog: Migrating women and their experiences with gender-based violence
At every stage and step of their lives, migrants, immigrants, refugees and asylum seekers are at special risk of having their fundamental human rights violated. Increased scrutiny in Irwin County creates new incentives for advocacy.

Learn more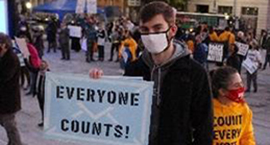 Blog: December Update - UN and State Edition
While Advocacy Connections shares federal ELCA Advocacy network updates, monthly posts from affiliated state public policy offices and the Lutheran Office for World Community at the United Nations are share information and inspiration.

Learn more
Dates of Note

inauguration day
Traditionally, an interdenominational, bipartisan Inaugural Prayer Breakfast is held on the morning of Inauguration Day for people of faith to gather together to pray for the Office of the Presidency.


elca world hunger leadership gathering
"And All Were Satisfied" is the theme of the virtual gathering for networking, idea sharing and planning for shared work.