Policy response to COVID-19 impacts continues
ELCA advocacy staff is analyzing the new Biden Administration and congressional activity for the new round of COVID-19 legislation while working to ensure that minoritized groups and Native American nations are an important focus in light of our understandings of the disproportionate health and economic impacts the pandemic has had on those of us historically and contemporarily impacted adversely by systemic racism. An open letter to Congress from the Circle of Protection, which the ELCA is part of, asked that the relief legislation addresses the "concurrent crises of the pandemic, economic recession, and systemic racism." Hill visits on COVID-19 relief are ongoing.
More >>
Policy NOTES

International pandemic relief
ELCA staff continues to meet with members of Congress to advocate for inclusion of funding for international COVID-19 relief in the next COVID-19 package. A target allocation of $20 billion would be used in various global health programs such as vaccines, PPEs, etc., as well as humanitarian and economic relief.

TPS update and forced displacement
As part of the ELCA's engagement on public policy issues affecting immigrants in the U.S. and outside, we welcome news of extension and redesignation of Temporary Protected Status (TPS) for Syria. Years of conflict and instability have created conditions in the country that prevent their safe return.

Humanitarian assistance to Yemen
On Feb. 5, the State Department confirmed Houthi rebels in Yemen will be removed from designation as a foreign terrorist administration. The ELCA had urged this action, as the designation hampered delivery of humanitarian assistance to millions of civilians in Yemen.

WH Office of Faith-Based and Neighborhood Partnerships
On Feb. 14, relaunching of a White House Office of Faith-Based and Neighborhood Partnerships by signing of an executive order was announced by the White House. The Washington Interreligious Staff Community including the ELCA signed a Jan. 21 letter requesting the entity's reestablishment. ELCA staff look forward to meeting with the new Executive Director, Melissa Rogers, on February 19.
Action Alerts



COVID-19 RESPONSE STILL NEEDED
Negotiations around policies and funding to address impacts of the coronavirus pandemic have resumed with President Biden and lawmakers. Urge inclusion of your priorities.
More >>



PEACE NOT WALLS
Urge the Biden administration to restore funding to the United Nations Relief and Works Agency and bilateral assistance to Gaza and the West Bank. January message includes response tool.
More >>





INVITATION TO SIGNUP
Connecting with the ELCA Advocacy Network is easy, for updates and opportunities to take action. Pass along the opportunity using the signup! Thank you.
More >>





ELCA ADVOCACY INFO AT EVENTS
Recently, ELCA Hunger Advocacy Fellows presented at the World Hunger Leadership Gathering, and staff hosted an Extravaganza display. Contact us to explore event resources.


Featured Resources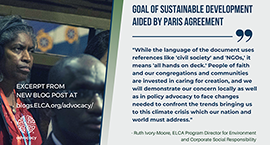 Blog: Goal of sustainable development aided by Paris Agreement
The detrimental effects of climate change resulting from global warming impact every corner of the world. Sustainable development cannot occur until a transition to a net-zero carbon economy is a reality. The challenges are daunting, but we have inspiration, commitment and creativity.

Learn more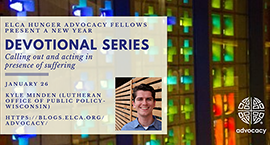 Blog Devotional: Calling out and acting in presence of suffering
"Like most of us, I have reached out to God many times over the past year to help me wrestle with grief, stress and exhaustion... But I think if you only read Psalm 86, you may get an incomplete picture of responses to the challenges and tragedy we face in our world today. Faced with suffering, Jesus acted."

Learn more
Dates of Note


WEBINAR - WHAT THE FUTURE HOLDS: IMMIGRATION POLICY IN THE BIDEN ADMINISTRATION
Scheduled from 5:30-7 p.m. ET, the ELCA Latino Association and ELCA Witnessing in Society staff will share updates on advocacy around immigration reform efforts. Signup forthcoming. Monitor social media @latinosELCA and @ELCAadvocacy for updates.


COMMISSION ON THE STATUS OF WOMEN
Global Lutheran participation hosted by the Lutheran Office for World Community in the annual U.N. event will focus on women's full and effective participation and decision-making in public life, as well as the elimination of violence, for achieving gender equality and the empowerment of all women and girls. Watch for #CSW65 on social media.