COVID-19 Vaccine Access
Although a World Trade Organization (WTO) waiver of intellectual property rights for COVID-19 vaccines and treatments, known as the Trade-Related Aspects of Intellectual Property (TRIPS) agreement, is not finalized, the support for temporary ease of rules announced May 5 by the Biden Administration has potential for India and other nations to increase their access to potentially lifesaving means to stem the spread and severity of this global pandemic.
More >>
Policy NOTES

Reparations
H.R. 40, the Commission to Study and Develop Reparation Proposals for African Americans Act, is poised for a vote in the House of Representatives – the first time the bill has received a vote since its introduction in 1989. If passed, a 13-person commission would be formed to study the lasting effects of slavery.

Unaccompanied children at the border
Though there are fewer unaccompanied children in Customs and Border Patrol (CBP) custody due to more efficient processing, there are still thousands of children in government care waiting to be reunited with family or placed with a foster parent.

Just Transition principles
In work with policy makers, ELCA federal advocacy emphasizes that declining net emissions, while essential to respond to the threat of climate change, are not the only measures that must be considered. Clean energy transition policies should fairly distribute gains and losses.

Affordable housing
Accessing a safe home is less affordable than ever. The Biden Administration submitted its proposed annual budget to Congress on April 9. Record high numbers of Americans are facing the risk of eviction due to the pandemic, and housing costs are climbing.
Action Alerts



*new* SENATE SUPPORT TO KEEP WOMEN AND GIRLS SAFE GLOBALLY
A bipartisan group of Senators has recently introduced the Keeping Women and Girls Safe from the Start Act of 2021.
More >>



*new* SUPPORT AFFORDABLE HOUSING AND HOMELESS FUNDING
Urge Congress to pass a budget with strong homeless and affordable housing programs.
More >>





*new* SUPPORT ADVANCING A REPARATIONS STUDY AND COMMISSION
The House is expected to soon vote on H.R. 40, the Commission to Study and Develop Reparation Proposals for African Americans Act.
More >>





PEACE NOT WALLS - MAY
Urge President Biden to deliver a message to Israel: it must halt the illegal removal of East Jerusalem families from their homes..

More >>



Featured Resources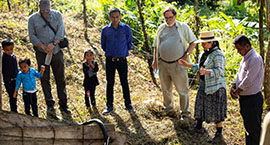 Resource: U.S. International Aid: Lutheran Reflections and National Practice
The ELCA accomplishes a great deal in accompaniment with global neighbors, but the scale is minuscule compared to the U.S. government. This ministry does not seek to replace the work of the government; it has a different center. New resource delves into both.

Learn more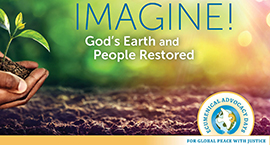 Blog: Lessons for advocacy from Ecumenical Advocacy Days
A leader from an ELCA-affiliated state public policy office highlights effective and meaningful faith-centered advocacy practices. "We were faithful in using our voice and our presence for love of neighbor," The Rev. Paul Benz concludes.

Learn more
Dates of Note


Faiths4Vaccines National Summit
1-4 p.m. EDT. Info for faith communities to help ensure equitable vaccine access, combat hesitancy and potentially use their houses of worship as vaccination sites.


World Refugee Day
United Nations observation to raise awareness of the plight of refugees around the world and of the efforts to protect their human rights.