Housing affordability
Nearly 10% of Americans stand at risk of eviction or foreclosure. The Biden Administration in late May shared a final version of their proposed budget for the next fiscal year, with major proposed increases to housing programs at this critical time.
More >>
Policy NOTES

Climate finance spending
President Biden's FY2022 proposed budget includes increases in international climate finance spending including funding for adaptation. ELCA staff met with members of Climate Special Envoy John Kerry's team to get a better understanding.

Tigray region of Ethiopia
The U.S. announced it has imposed visa restrictions on current or former Ethiopian or Eritrean government officials, members of the security forces, or other individuals responsible for, or complicit in, undermining resolution of the crisis in Tigray which turned violent in November 2020, causing massive displacement.

Path to citizenship
As Congress continues to weigh various options to legislate a pathway to earn citizenship, one of the options on the table is for a pathway to citizenship for immigrant workers in the next recovery package, perhaps via a budget tool called "reconciliation."

Policing reform
A bi-partisan group of Senators are working to find a compromise on the George Floyd Justice in Policing Act. ELCA advocacy activity continues to support the strongest version of this important legislation. The ELCA joined hundreds of organizations in a June 2020 statement around shared priorities for federal policing reform.
Action Alerts



SUPPORT THE EQUALITY ACT
Help pass this bill that would add sexual orientation and gender identity alongside race, gender, religion, national origin, age, and disability. Now the Senate must act.
More >>



SUPPORT AFFORDABLE HOUSING AND HOMELESS FUNDING
Urge Congress to pass a budget with strong homeless and affordable housing programs.
More >>





SUPPORT ADVANCING A REPARATIONS STUDY AND COMMISSION
The House is expected to soon vote on H.R. 40, the Commission to Study and Develop Reparation Proposals for African Americans Act.
More >>





SUPPORT IMMIGRATION REFORMS AND CITIZENSHIP PATH FOR IMMIGRANTS
After decades of missed opportunities, Congress is on the verge of passing immigration reforms, including a pathway to earn citizenship.

More >>



Featured Resources
Blog: Equality Act demonstrates Lutheran love of neighbor
"Most Americans incorrectly assume that federal laws will protect someone being evicted from their home or turned away from a place of business for the sole reason of being part of the LGBTQ+ community. There are no such laws. But there could be," writes Deacon Ross Murray.

Learn more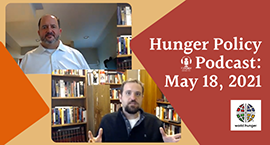 Podcast: Hunger Policy - May 18, 2021
Public policies impact where our food comes from, the kinds of food we eat, how we acquire food – and what our options are when we don't have enough. John Johnson, ELCA director of domestic policy, joins Ryan Cumming, ELCA program director for hunger education, for a conversation about hunger and policy.

Learn more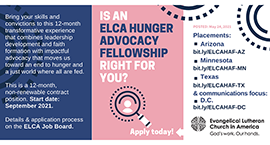 Now hiring! ELCA Hunger Advocacy Fellowships
Do you (or someone you know) have the drive to help build ELCA World Hunger capacity to end hunger by deepening and expanding Lutheran advocacy efforts in synods, coalitions and networks? Apply yourself and/or share widely. Start date for each 12-month position is September 2021. Placements available with state public policy offices in Arizona (bit.ly/ELCAHAF-AZ), Minnesota (bit.ly/ELCAHAF-MN) and Texas (bit.ly/ELCAHAF-TX); and with a communications focus in Washington, D.C. (bit.ly/ELCAHAF-DC).

Learn more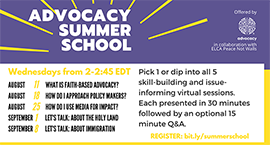 Learning event: Advocacy Summer School
Pick 1 or take all 5! Advocacy Summer School will be presented by ELCA advocacy staff in collaboration with ELCA Peace Not Walls. Five skill-building and issue-informing, 30-minute virtual sessions are planned on Wednesdays this summer, followed by an optional 15-minute Q&A time. Topics: What is faith-based advocacy? How do I approach policy makers? How do I use media for impact? Let's talk: About the Holy Land; Let's talk: About immigration. Forthcoming registration details will be shared on @ELCAadvocacy social media.

Registration forthcoming
Dates of Note


*Learning event* oRGANIZING AND ADVOCACY: ECO-JUSTICE AND SUSTAINABILITY IN INFRASTRUCTURE
Expertise from both ELCA advocacy staff and the Organizing for Mission Network will come together sharing pressing awareness of change needed for livable and sustainable communities and policy discussion on infrastructure shaping that change.


*LEARNING EVENT* eLCA ADVOCACY NETWORK CONFERENCE CALL: AUGUST RECESS POSSIBILITIES
Most years during an August recess, members of Congress return to their state and/or congressional district and reconnect with constituents. Reflect with ELCA advocacy staff on opportunities to interact with policymakers in-district on current priority issues. Registration forthcoming.