Historic Federal Bills
The recently signed Infrastructure Investment and Jobs Act will make strong investments in our nation's infrastructure and climate resilience and will increase economic opportunity in our communities. Measures in the Build Back Better budget reconciliation bill also contain potential for advancing common good including in the areas of in childcare, climate impacts, childhood education, employment, food security, healthcare, housing and immigration. Our advocacy continues to emphasize ELCA priorities.
More >>
Policy NOTES

Housing Stimulus Funding
In recently announced frameworks and bill text of the administration's Build Back Better Initiative, roughly $150 billion of housing funding was publicly stated to be included – though negotiations are still ongoing as of early November.

Global COVID-19 Vaccination
ELCA advocacy staff continue to advocate for COVID-19 vaccines access. Recently staff participated in dialogue with COVAX's Vaccine Initiative representatives, who shared about the need to increase COVID-19 vaccines and other related resources to strengthen countries' capacity to fight the pandemic.

Pathway to Citizenship
As the reconciliation negotiations continue, the immigration provisions have become a major point of contention. Originally allocating $100 billion for immigration and a pathway to legal permanent residency, this allocation is mired by debate over specifics.

Israeli Government Decision
The ELCA and 14 other faith-based organizations signed a letter calling on the Secretary of State to publicly oppose an Israeli government decision to designate six Palestinian human rights groups as "terrorist" organizations.
Action Alerts



INDIAN BOARDING SCHOOL TRUTH AND HEALING NEEDED
Join religious and Indigenous leaders' call for Congress to advance a new commission and study on the devastating legacy of Indian Boarding Schools and develop meaningful steps to heal moving forward.

SUPPORT ADVANCING A REPARATIONS STUDY AND COMMISSION
The House of Representatives is expected to soon vote on H.R. 40, the Commission to Study and Develop Reparation Proposals for African Americans Act.



SUPPORT THE EQUALITY ACT
The House has passed the bipartisan Equality Act, a bill that would add sexual orientation and gender identity alongside race, gender, religion, national origin, age, and disability. Now the Senate must act.



VIOLENCE AGAINST WOMEN ACT REAUTHORIZATION
The Violence Against Women Act (VAWA) is an essential tool in combating gender-based crimes, including domestic violence, human trafficking, sexual assault and other forms.


Featured Resources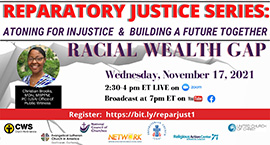 Webinar
*Nov. 17*

: Reparatory justice series With the National Council of Churches and other partners, the ELCA is part of presenting a Reparatory Justice Webinar Series on the 3rd Wednesday of each month. The inaugural session is a "Racial Wealth Gap Simulation," guiding participants to an understanding of why racial equity is so important to ending poverty in the United States.

Registration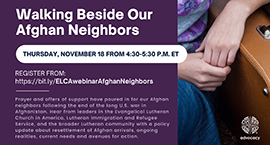 Webinar
*Nov. 18*

: Walking Beside Our Afghan Neighbors An outpouring of concern, prayers and offers of assistance for our Afghan neighbors has swelled from ELCA members and congregations, and through ministries like Lutheran Disaster Response and LIRS as the long-held U.S. military presence in Afghanistan ends. This webinar shares information on what's happening and how we can take action.

Registration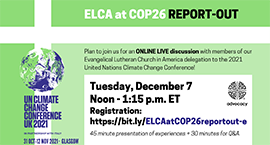 Webinar: ELCA at COP26 Report-out
Want to hear directly from our #ELCAatCOP26 delegation? Plan to join this Dec. 7 report-out. Much transpired that will impact us all, and we can hear from people there with a faith-centered presence in Glasgow. Panelists include leaders from ELCA Young Adults, ELCA World Hunger, Pacific Lutheran Theological Seminary, state public policy offices and others.

Registration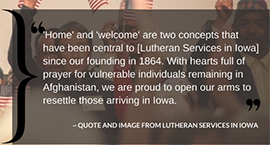 Blog: Welcome of Afghan Newcomers
According to recent government figures, the United States is on pace to resettle around 75,000+ Afghans in the coming weeks. This post provides an overview of what's been happening, how Lutherans are stepping up to provide accompaniment, and where you can engage further by advocating for legal protections for new arrivals.

Learn more
Dates of Note


Transgender Day of Remembrance
View ELCA Lower Susquehanna Synod Forum (2020).


16 Days of Activism against Gender-Based Violence
Reflect from devotional from Churches Beyond Borders, including ELCA.