2022 ELCA Federal Policy Priorities
Our annual identification of policy priorities on the federal horizon for ELCA advocacy action is available. Find listing on the ELCA Advocacy Blog, with a downloadable version on the ELCA advocacy resource page. Shaped by the ELCA's social teaching documents and the experiences of its congregations, ministries and partners, we advocate to end world hunger and stand up for policies that create opportunities to overcome poverty, promote peace and dignity, preserve God's creation and promote racial and gender justice.
More >>
Policy NOTES

Housing in Federal Budget
Congress on Feb. 18 voted on another extension through Mar. 11 of federal appropriations. In a year of historic inflation and rising housing costs, flat level funding for the entire fiscal year would be especially crippling for federal housing programs in particular, which are directly tied to the market.

Afghan Refugee Advocacy
On Feb 19, the last Afghan refugees departed U.S. military bases for resettlement, bringing the need for welcome of 76,000 Afghans evacuees in cities across the country since rapid evacuations took place last summer. However, many Afghan arrivals lack a pathway to legal permanent residency which presents a problem for their long-term safety and security.

Foreign Assistance
As COVID-19 and humanitarian emergencies continue to impact many families and communities around the world, the ELCA is collaborating with ecumenical partners to urge the Biden administration to send a request to Congress to ask for supplemental funding.
Action Alerts



*new* SUPPORT AN AFGHAN ADJUSTMENT ACT
Congress must act now to pass the Afghan Adjustment Act to ensure Afghans seeking to make the United States their home can apply to become lawful permanent residents after one year.
More >>



*new* SUPPORT AFFORDABLE HOUSING AND HOMELESS FUNDING
Urge Congress to Pass a Budget with Strong Homeless and Affordable Housing Programs.
More >>





*updated* SUPPORT THE FREEDOM TO VOTE: JOHN R. LEWIS ACT
Join faith leaders in contacting Congress to pass meaningful election reform through the Freedom to Vote: John R. Lewis Act.
More >>





SUPPORT ADVANCING A REPARATIONS STUDY AND COMMISSION
The House of Representatives has advanced through committee H.R. 40, the Commission to Study and Develop Reparation Proposals.

More >>



Featured Resources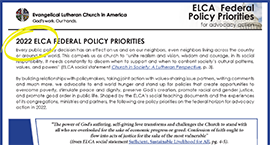 Resource: 2022 ELCA Federal Policy Priorities
Every public policy decision has an effect on us and on our neighbors. By building relationships with policymakers, taking joint action with values-sharing issue partners, writing comments and much more, together we advocate in these priority areas.

Learn more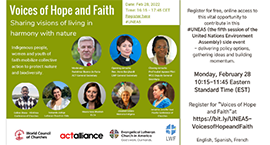 Event: Voices of Hope and Faith
You are invited to this Mon. Feb. 28 side-event of the 5th session of the U.N. Environment Assembly (#UNEA5). Work of faith communities will be highlighted, especially indigenous, women, and young faith leaders who mobilize collective global action to protect nature and biodiversity.

Learn more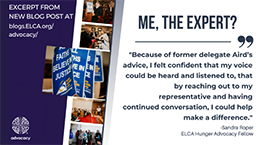 Blog: Me, the Expert?
Advocacy insights & practices learned by ELCA Hunger Advocacy Fellow Sandra Roper during the Days for All Peoples event hosted by the Virginia Interfaith Center for Public Policy, an ELCA-affiliated state public policy office, are worth passing on!

Learn more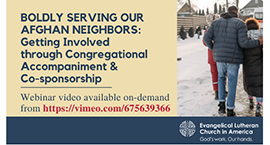 Video: Boldly Serving Our Afghan Neighbors
On-demand video is available to resource congregations and individuals answering the call to engage in co-sponsorship, financial support and advocacy meaningfully and effectively as we show welcome in the days and years ahead (from Feb. 2022 webinar).

Learn more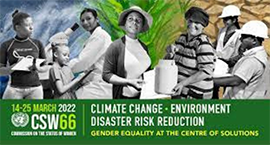 Event: Commission on the Status of Women (CSW66)
This year, the Lutheran Office for World Community (LOWC) alerts us that there is no need to register for the 66th session of the CSW virtually held Mar. 14-25. All events will be live streamed from United Nations webtv: https://media.un.org/en/webtv. Search "Lutheran" on side-events page among opportunities.

Learn more
Resource: Climate and Hunger Toolkit
Prepared by ELCA World Hunger, this resource contains activities exploring connections between hunger, climate change and faith. Listing advocacy as a way to take action, it asks: "What might we do together? What might you do individually? Who else might you invite to join you?"

Learn more
Dates of Note


Together We Welcome
A national faith gathering to strengthen support for refugees, immigrants and migrants, hosted by Church World Service with ELCA contribution.


American Climate Leadership Summit
The ELCA is a sponsor of this event building broad public support and political resolve for climate action; with Ruth Ivory-Moore of ELCA advocacy staff among speakers.