VAWA Reauthorization Ready for Signature
Reauthorization of the Violence Against Women Act (VAWA) is ready for the president's signature, and we thank the many Lutherans who expressed support using the ELCA Action Alert! Both Vance Blackfox (Cherokee), Director, Indigenous Ministries & Tribal Relations, and Dr. Mary J. Streufert, Director, Justice for Women, in the ELCA commented on this policy development.
More >>
Policy NOTES

Hunger and the State of the Union
President Biden named the Child Tax Credit as a priority in his State of the Union speech, which is also a priority of our anti-hunger advocacy shared by partners from Christian, Jewish and Muslim organizations. The ELCA is addressing priorities in additional legislation that would have been in Build Back Better legislation.

Learn More About Faith and Reparatory Justice
The ELCA continues cohosting a monthly faith series examining reparations for people of African Descent. The March 16 session will focus on the global and international aspects of the reparations movement; April 20 on housing, land and debt; and May 1 on health.

Global COVID-19 Vaccine Access
The ELCA continues to advocate to U.S. government and global multilateral entities to ensure better ways to increase access to COVID-19 vaccines, treatments and other resources--especially for low-and-middle income countries.

Temporary Protected Status Designations
The Department of Homeland Security (DHS) is to be commended for designating Sudan and Extending and Redesignating South Sudan for Temporary Protected Status (TPS) due to dire country conditions. In response to the continued conflict in Eastern Europe, Ukraine was also designated for TPS.
Action Alerts



*new* SENATE SUPPORT TO KEEP WOMEN AND GIRLS SAFE GLOBALLY
Urge Senators to join bipartisan group supporting the Keeping Women and Girls Safe from the Start Act of 2021(S.765).
More >>



SUPPORT AN AFGHAN ADJUSTMENT ACT
Congress must act now to pass the Afghan Adjustment Act to ensure Afghans seeking to make the United States their home can apply to become lawful permanent residents after one year.
More >>





SUPPORT THE FREEDOM TO VOTE: JOHN R. LEWIS ACT
Join faith leaders in contacting Congress to pass meaningful election reform through the Freedom to Vote: John R. Lewis Act.
More >>





INVITE OTHERS
Public policy decisions have an effect on us and on our neighbors across the country and around the world. Share the opportunity to connect with the ELCA Advocacy Network - ELCA.org/ advocacy/signup.

More >>



Featured Resources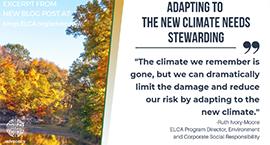 Blog: Adapting to the New Climate Needs Stewarding
Biodiversity supports everything in nature that we need to survive: food, clean water, medicine and shelter. "The [new Intergovernmental Panel on Climate Change] Report is a wake-up call for all to act," shares Ruth Ivory-Moore.

Learn more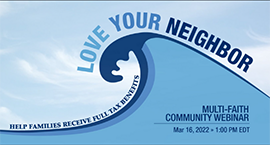 Webinar: Love Your Neighbor
An ELCA co-sponsored webinar on Mar 16 at 1 p.m. ET will explain changes to the Child Tax Credit and Earned Income Tax Credit, and how you can help spread the word in our communities about these tax credits.

Learn more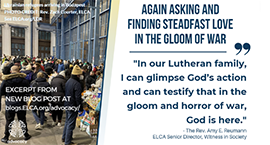 Blog: Again Asking and Finding Steadfast Love in the Gloom of War
"As the war in Ukraine continues, the God of peace is here and calls us to maintain compassion and concern for all human suffering that results from conflict and war." Some ways the Lutheran family is responding are described in this Ash Wednesday post by the Rev. Amy Reumann.

Learn more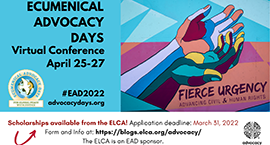 Blog: Ecumenical Advocacy Days – with Scholarships!
Because EAD is such an excellent opportunity to connect faith-voices in advocacy action, several ELCA scholarships for the registration fee are available. Scholarship applications due March 31.

Learn more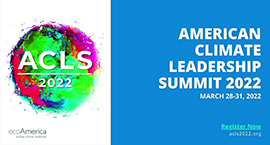 Virtual Event: American Climate Leadership Summit
Redeem free registration for March 28-31 opportunity to hear climate leaders – inspired and empowered with the latest climate information and resources – including ELCA's Ruth Ivory-Moore. Use code ASLC22ELCA for free registration!

Learn more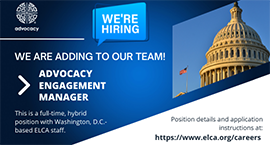 Job opening: Advocacy Engagement Manager
This new position will play a key role in equipping advocates across the ELCA and in advocacy activity coordinated from the ELCA's federal hub in Washington, D.C. with the ELCA Witness in Society staff.

Learn more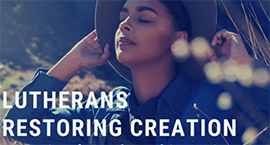 Resource: 2022 Earth Day Virtual Worship from Lutherans Restoring Creation
Download free worship components available ahead-of-time, including message from the Rev. Carmelo Santos, ELCA Director, Theological Diversity and Engagement. The service will also be translated into Spanish.

Learn more
Dates of Note


INTERNATIONAL DAY OF ELIMINATION OF RACISM
World Council of Churches offers regional prayers leading up to the U.N. day held on anniversary of day police in South Africa killed 69 people at a peaceful demonstration against apartheid in 1960.


#NOPLASTICS FOR LENT WITH RACHEL WYFFELS
The #NoPlasticsforLent initiative is led by young adults across the ELCA, pledging to sustainable spiritual practices and creation care. ELCA Hunger Advocacy Fellow Rachel Wyffels leads this day's topic.