Critical Housing Increases in Budget
Since original overdue deadline of the budget passed last October, hundreds of Lutherans contacted their members to end the inaction and include increases in critical needs such as housing aid and homeless assistance. In the final version, advocates succeeded in obtaining increases in several low-income spending accounts, including a boost of more than $4 billion in housing assistance.
More >>
Policy NOTES

Climate Awareness in Budget and Beyond
President Biden released his Fiscal Year 2023 (FY23) budget that includes funding to address climate change domestically and internationally with substantial increase in funding for climate change mitigation and adaptation measures.

Response to Myanmar (Burma)
The U.S. government has officially declared it has determined that the Myanmar army carried out actions that amount to genocide against the Rohingya people.

End in sight for Title 42
On April 1, President Biden announced that Title 42, a policy that has been used to categorically deny asylum seekers the opportunity to ask for protection, will be ending on May 23. The Department of Homeland Security has made many preparations for the change, including updating how asylum will be processed.

Fair Housing Month
April is Fair Housing Month, an opportunity to highlight the critical need of housing for people and to recommit support for inclusion and justice in housing – matters many Lutherans and Lutheran ministries uphold.
Action Alerts



*new* PLEASE SUPPORT THE PEOPLE OF BURMA (MYANMAR)
Urge your senator to co-sponsor the Burma Act of 2021 to support civil society and humanitarian assistance in Burma and more in response to the coup by the Burmese military in February 2021.
More >>



*new* SUPPORT THE GLOBAL FIGHT AGAINST MALNUTRITION
Urge action to provide immediate relief and address long-term causes of extreme poverty to contribute to reduction of global malnutrition cases.
More >>





SUPPORT AN AFGHAN ADJUSTMENT ACT
Congress must act now to pass the Afghan Adjustment Act to ensure Afghans seeking to make the United States their home can apply to become lawful permanent residents after one year.
More >>





THANK YOU FOR VAWA REAUTHORIZATION
Thank you to the over 400 Lutheran advocates who wrote to their lawmakers in support of VAWA reauthorization! The legislation, which included important protections for tribal communities, was passed.

Featured Resources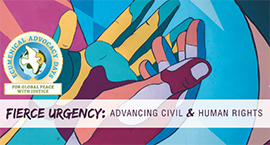 Event: Ecumenical Advocacy Days
EAD begins on April 25. This is an excellent opportunity to connect faith-voices in advocacy action centered around this year's theme "Fierce Urgency: Advancing Civil & Human Rights." With time for Lutherans to get together, join EAD worship, learning, training and action!

Learn more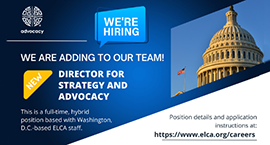 Job Opening: Director for Strategy and Advocacy
This new position will lead the development of ELCA federal policy and advocacy strategy and implement legislative strategies to effectively represent and communicate ELCA positions to policy makers in Washington, D.C.

Learn more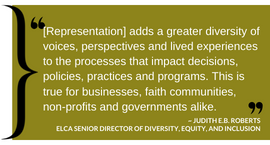 Blog: Why the Confirmation of Judge Ketanji Brown Jackson Matters
"Justice Ketanji Brown Jackson represents more than just her accomplishments in the legal realm," shares Judith Roberts as she discusses her personal perspective on the importance of Judge Jackson's confirmation to the Supreme Court.

Learn more
Blog: Title 42 Points to Need for Humane Asylum System
"The human repercussions of Title 42 will be felt for years to come. Hopefully this moment can redirect our policymakers towards rebuilding a humane asylum system," writes Giovana Oaxaca, who reflects on the impact and what can come next.

Learn more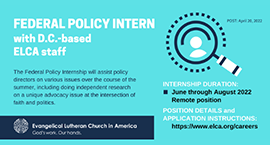 Job Opening: Federal Policy Intern
Apply asap! This internship position will assist policy directors on various issues over the course of the summer, including doing independent research on a unique advocacy issue at the intersection of faith and politics.

Learn more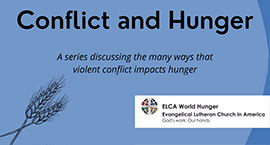 Blog: ELCA World Hunger Conflict and Hunger series
ELCA World Hunger offers a five-part blog series that discusses ways violent conflict impacts hunger, as well as some of the long-term effects that may come from the war in Ukraine.

Learn more
Dates of Note


EARTH DAY
Will your congregation observe Earth Day Sunday? Download Lutherans Restoring Creation resources to help celebrate God's good creation.


International Migration Review Forum
The UN is hosting its first International Migration Review Forum, and ELCA leaders will take part.