Augusta Victoria Hospital Funding
President Joe Biden visited Augusta Victoria Hospital (AVH) on July 15 as part of a two-day presidential visit to Israel and the Palestinian territories. While there, the president announced a $100 million multiyear commitment toward the East Jerusalem Hospital Network (EJHN), of which AVH is a member. Use the Action Alert from ELCA Peace Not Walls to urge support by members of Congress of the president's commitment by voting to appropriate at least $100 million to support the work of AVH and other East Jerusalem hospitals.
More >>
Policy NOTES

Border Encounters
The tragic deaths of 53 migrants abandoned in the trailer of a semi-truck in San Antonio, Texas on June 27 was decried in a statement, which included the ELCA Southwestern Texas Synod, as a painful example of what happens when migrants seek dangerous alternatives to migrate. The ELCA continues to advocate for a dignified and humane process at the border.

Supreme Court Abortion Ruling
Following the Supreme Court decision in Dobbs v Jackson, which removes the federal protections previously provided by Roe v Wade, Bishop Eaton issued a pastoral message. Several ELCA affiliated state public policy offices are working with synods to monitor and update state legislation related to reproductive health.

Use of Landmines
The Biden administration announced changes to the U.S. Anti-Personnel Landmine policy, "joining the vast majority of countries around the world in committing to limit the use of anti-personnel landmines." In January 2020, the Trump administration reversed 2014 policy that had unequivocally banned U.S. production and acquisition of antipersonnel landmines.

Bipartisan Gun Legislation
President Biden signed the Bipartisan Safer Communities Act, a historic gun safety, mental health and school safety bill. Our office issued an action alert in June encouraging Lutherans to urge passage of this bi-partisan compromise. The need for future gun safety advocacy remains.
Action Alerts



*new* SUPPORT EFFORTS TO END WAR IN YEMEN
Urge your representative to support the Yemen War Powers Resolution seeking to end U.S. participation in this Saudi Arabia-led war in Yemen.
More >>



*new* SUPPORT THE TRUTH AND HEALING COMMISION ON INDIAN BOARDING SCHOOL POLICIES IN THE UNITED STATES ACT
Urge Congress to vote and initiate long-overdue steps towards healing and justice.
More >>





*new* SUPPORT AFFORDABLE HOUSING AND HOMELESS FUNDING IN FY23 BUDGET
Bring attention to the staggering costs of the housing market and the need to invest more in homeless support programs as FY23 spending priorities are determined.
More >>





*new* ADVANCE REPARATIONS STUDY COMMISSION THROUGH WHITE HOUSE
Faith and racial justice partners are calling for President Biden to establish a commission to study reparations, modeled on the principles of H.R. 40.

More >>



Featured Resources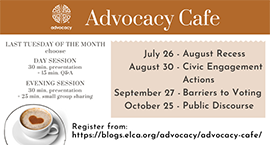 Events: Advocacy Cafe
*July 26+

With a Tue. July 26 cafe exploring August Recess opportunities to start us out, drop by an Advocacy Cafe to hear from ELCA advocacy community leaders about timely topics on the last Tuesday of every month. Get to know staff, issues and one another!

Learn more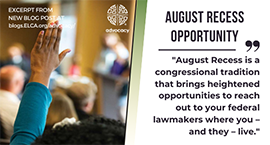 Blog: August Recess Opportunity
August Recess is a congressional tradition that brings heightened opportunities to reach out to your federal lawmakers where you – and they – live. Learn about opportunities and find prompts on some current issues.

Learn more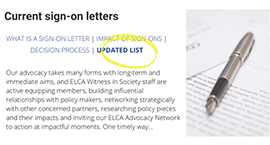 Blog: Current Sign-On Letters
One timely way we can act as ELCA is to sign on with others to offer pointed comments to decision makers when developments demand. Learn about this approach and find current sign-ons as this post is updated monthly.

Learn more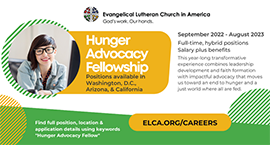 Job Opening: 2022-23 Hunger Advocacy Fellowships
Advance professional job skills in setting valuing leadership development & faith formation with fulltime, hybrid, paid positions in Ariz., Calif. or D.C. Apply or help connect passionate people with this opportunity. @ELCAadvocacy social posts available.

Learn more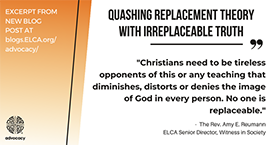 Blog: Quashing Replacement Theory with Irreplaceable Truth
The Great Replacement is a conspiracy theory that claims there is a plot to bring nonwhite, non-Christian people to western nations through immigration. "[Our] voices and actions are needed to replace hate-filled speech with God's vision for the Beloved Community," writes the Rev. Amy Reumann.

Learn more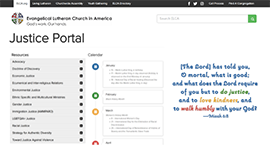 Webpage: ELCA Justice Portal
Join others across the church in living out God's baptismal call to act for justice with information in the ELCA's Justice Portal. The portal offers topic areas including advocacy and includes a calendar of important dates and anniversaries. Find at ELCA.org/justice.

Learn more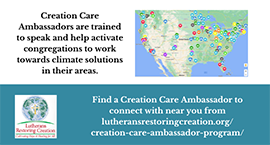 Event: Climate Care Ambassador Program Connections Call
Interested in becoming a Creation Care Ambassador? Lutherans Restoring Creation is hosting a Connections Call on Aug. 30, and Blessed Tomorrow which facilitates Creation Care Ambassador Training will be on hand to answer your questions.

Learn more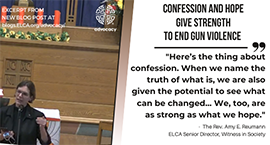 Blog: Confession and hope give strength to end gun violence
"Our marching and advocacy are ways that we embody hope with and for each other, even in what may seem like hopeless circumstances. We are as strong as what we hope," writes the Rev. Amy Reumann.

Learn more
Dates of Note


World Day Against Trafficking in Persons
On this U.N. day of observance, encourage remembrance of victims, support for survivors and accountability to governments committed to ending human trafficking.