Inflation Reduction Act
On Aug. 16, the president signed the Inflation Reduction Act into law. This culminates months of advocacy on important priorities with Lutherans and partners from every corner of our networks. In addition to significant climate provisions, the Act will make health care more accessible for more people by continuing the Affordable Care Act subsidies and allowing the government to negotiate prices for prescription drugs in the Medicare program.
More >>
Policy NOTES

Fiscal Year Ending
The government fiscal year ends on October 1. Should a fully passed budget be absent, lawmakers are preparing a Continuing Resolution to keep federal programs funded. Extended flat funding levels will hurt low-income assistance and housing programs particularly hard due to inflation and the rising costs of housing nationwide.

U.S. Disaster Response Improvements
The Reforming Disaster Recovery Act (S. 2471) has been included by budget appropriators in Congress as an amendment to a greater FY23 budget bill. It would authorize Community Disaster Block Grant programs, one of the top policy asks of an ELCA Action alert over the last year, among other substantial improvements.

Refugee Resettlement
The U.S. Refugee Admissions Program has historically been an important foreign policy and migration policy tool, ensuring that the U.S. can receive its share of the global displaced population. So far, the United States has resettled just 20,000 refugees out of a goal of 125,000. The FY23 refugee admission target still needs to be authorized by Congress.

White House Conference on Hunger
In 2020, 38.2 million Americans, including 11.7 million children, lived in homes in which they were unable to always afford enough food. A White House Conference on Hunger, Nutrition, and Health is scheduled on Sept. 28 presents an opportunity to make ending hunger a national priority.
Action Alerts



ADVOCATE FOR SENSITIVE U.S. ASYLUM POLICY AND AN END TO TITLE 42
Help the United States continue to hold forth safety and hope for the displaced by upholding the right to asylum and ending Title 42.
More >>



SUPPORT AN AFGHAN ADJUSTMENT ACT
Congress must act now to pass the Afghan Adjustment Act to ensure Afghans can apply to become lawful permanent residents after one year.
More >>





SUPPORT AFFORDABLE HOUSING AND HOMELESS FUNDING IN FY23 BUDGET
Tell Congress to prioritize housing and homeless programs in the FY23 federal budget.
More >>





SUPPORT THE GLOBAL FIGHT AGAINST MALNUTRITION
Chronic malnutrition of children under 5 has decreased between 1990 and 2020. U.S. investments and other poverty-reducing multilateral efforts have contributed to this progress.

More >>



Featured Resources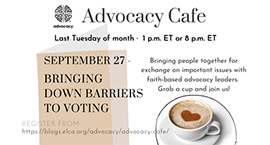 Event: Advocacy Cafe - Bringing Down Barriers to Voting
Being alert to barriers to voting and acting to guarantee that all citizens be able to exercise the right to vote can demonstrate our Christian faith as Lutherans and have value for our communities and country. On Tuesday, Sept. 27 at 1 pm ET or 8 pm ET, hear one another and share our experiences.

Register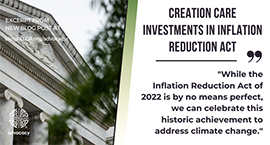 Blog: Creation Care Investments in Inflation Reduction Act
"The Inflation Reduction Act of 2022 most notably invests $369 billion in energy security and climate change programs over the next ten years. This is the largest investment by the United States in climate and clean energy to date," writes our author.

Learn more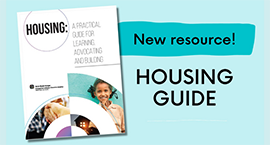 Resource: Housing - A Practical Guide for Learning, Advocating and Building
Get started in learning about homelessness and affordable housing, advocating on issues connected to homelessness and affordable housing, and even building affordable housing.

Learn more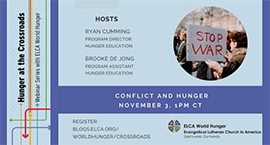 Webinar: Hunger at the Crossroads - Conflict and Hunger
We know that hunger is about more than food. Understanding hunger – and working to end it – means seeing many intersections. "Conflict and Hunger" is theme for Nov. 3 featuring advocacy staff.

Learn more
Dates of Note


world food day
ELCA World Hunger will stream a celebration of World Food Day, hosted by Rick Steves with special guest.


COP27
Lutherans will be there for the 27th United Nations Climate Change Conference to be held in Egypt.