Global Malnutrition Prevention and Treatment Act passes!
We celebrate that the bipartisan Global Malnutrition Prevention and Treatment Act recently passed the Senate following spring passage by the House and thank the many Lutherans who used their voices to encourage this action!
More >>
Policy NOTES

DACA-related decision still indicates need of permanent protections
On October 7, the U.S. Court of Appeals for the Fifth Circuit made a major decision impacting Deferred Action for Childhood Arrivals (DACA). Touching the lives of 600,000 current beneficiaries, the decision also impacts thousands of young adults who were locked out while litigation has played out.

Inflation Reduction Act and church building infrastructure
Through the Inflation Reduction Act, faith-based and community-based organizations are eligible for new grant programs that the law will create to address pollution, incentivize the use of clean energy sources and mobilize certain places that commit to their communities to advance climate-benefitting solutions.

Acute awareness of disaster response needs
Lawmakers in Congress, who are currently in their home state districts and not expected to return to Washington, D.C. until after Election Day, will be discussing what additional resources hurricane-impacted states will need in the coming days and weeks following Hurricane Ian.

Election Day is almost here
As Lutherans, we live out our mutual responsibility for one another by guaranteeing our neighbor's right to vote and supporting free and full participation in elections. With deadlines and Election Day nearing, encourage one another including with socials @ELCAadvocacy and #ELCAvotes resources. ELCA advocacy staff are monitoring mid-term election impacts.
Action Alerts



*new* GLOBAL FOOD SECURITY REAUTHORIZATION ACT OF 2022
It is critical for the United States and other nations responding to food insecurity to invest in resilient, multisectoral agricultural programs that will help families overcome hunger.
More >>



*new* SUPPORT POLICY THAT IMPROVES DISASTER RELIEF AND PREVENTION
Lawmakers are eager to hear from our experiences in disaster relief as they take vital steps to prepare our communities to be more resilient in the future.
More >>





SUPPORT THE TRUTH AND HEALING COMMISSION ON INDIAN BOARDING SCHOOL ACT
Let's further the ELCA's commitment to realizing justice and equity for Indigenous people.
More >>





INVITE OTHERS TO BE PART OF THE ELCA ADVOCACY NETWORK
In your congregation, social network, ministry team and other settings please invite others to use the signup link to receive updates & Action Alerts. There's much we can do together!

More >>



Featured Resources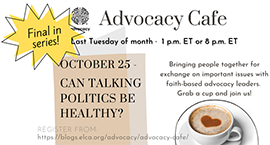 Event: Advocacy Cafe - Can Talking Politics Be Healthy?
Does politics have to bring out the worst in us? Are growing gulfs something we just accept? Drop by #ELCAadvocacycafe on Oct. 25 at 1 pm ET or 8 pm ET to explore as people of faith. Braver Angels resources will be featured.

Register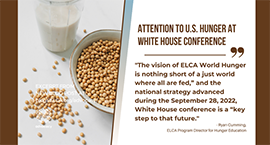 Blog: Attention to U.S. Hunger at White House Conference
According to the White House data on hunger, nutrition and health, 1 in 10 American households experience food insecurity. The conference sponsored by the White House on September 28 became the 2nd of its kind in over half a century.

Learn more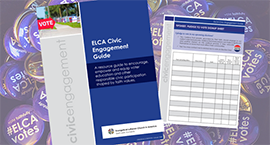 Resource: ELCA Civic Engagement Guide
Try a Get-Out-The-Vote event or other activity explored in this resource, timely as Election Day approaches! Our faith is integral to how we, as Christians, attend to the world. Our beliefs and actions are shaped by our relationships with God and one another.

Learn more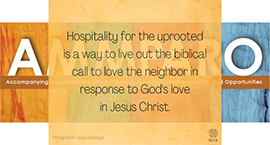 Blog: Response to Recent Arrivals of Migrants By Bus
"The escalation of migrants arriving at the southern border is not new, but the evolving nature of their transportation - often without notice - to cities and communities throughout the United States is unprecedented." Read more in this post from ELCA AMMPARO.

Learn more
Dates of Note


HUNGER AT THE CROSSROADS - CONFLICT AND HUNGER
Christine Mangale, Lutheran Office for World Community Director, and Patricia Kisare, ELCA Program Director for International Policy; will be panelists.