Debt Ceiling
The U.S. Treasury Department could default on its debt as early as June without congressional action, as the United States will exhaust its ability to pay all its bills unless the current $31.4 trillion cap on borrowing is raised or suspended. ELCA advocacy staff are very focused on several important fronts that impact hungry and vulnerable communities as debt ceiling debate develops.
More >>
Policy NOTES

Inflation Reduction Act
The Inflation Reduction Act is the largest investment in climate solutions in U.S. history. It includes provisions to promote the transition to renewable energy for individuals and for institutions, and it has a large focus on environmental justice for communities most-affected by climate change.

Biden Administration Asylum Policy Changes
The Biden Administration is using the federal rulemaking process to usher drastic changes to U.S. asylum policy ahead of the anticipated end of Title 42, on May 11. Adopting this rule would have severe consequences on people fleeing persecution and violence.

Housing Appropriations
ELCA Witness in Society staff met with congressional staff in February and March discussing housing and homeless investment needs in the fiscal 2024 federal budget (FY24), as intent to find new cuts in discretionary spending this year has been expressed by several members of the House.
Action Alerts



COMMENT ON HARMFUL PROPOSED ASYLUM RULE
Certain migrants seeking asylum could be disqualified based on their manner of entry and transit to the U.S. southern border in this new proposed rule. Make public comment by March 27.
More >>



EXPANDED HOUSING ACCESS POSSIBLE BY NEW RULE
Proposed Affirmatively Furthering Fair Housing rule takes steps toward addressing patterns of segregation and expanding fair housing access. Make public comment by Apr. 10.
More >>





PEACE NOT WALLS - MARCH 2023
The situation between Israel and the Palestinians deteriorated sharply in the past two months. As a major donor of military aid to Israel, the U.S. needs to hold Israel accountable for human rights violations.
More >>





SIGN UP
At the end of 2022 - 21,720 of us were part of the ELCA Advocacy Network! That's an increase of about 1,000 over the course of the year, invited to respond to 22 Action Alerts as well as review other updates. Thanks for your interest! Invite others to add to our impact.

More >>



Featured Resources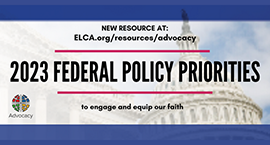 Resource: 2023 ELCA Federal Advocacy Priorities
As Christians, our cares, concerns and commitments run deep and wide. Shaped by the ELCA's social teaching documents and the experiences of our congregations, ministries and partners, the following are our ELCA federal advocacy priorities for 2023.

Learn more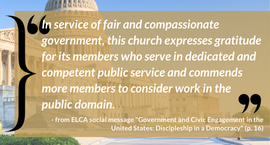 Blog: Lutherans in the 118th Congress
The 118th U.S. Congress convened on January 3, 2023. The following are some of the legislators with Lutheran affiliation who will serve the country in this new session.

Learn more
Blog: Faith-Based Global Gender Equity Advocacy at CSW67
Lutheran delegates to advance promoting women's rights, documenting the reality of women's lives throughout the world, and shaping global standards on gender equality and empowerment.

Learn more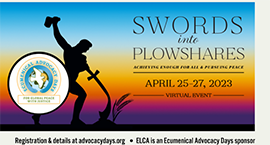 Event: Ecumenical Advocacy Days
Ecumenical Advocacy Days, an annual gathering, takes place in 2023 on April 25-27 virtually. The theme is "Swords into Plowshares: Achieving Enough for All & Pursuing Peace," and will include, worship, skills training, deeper issue study and lobby day meetings. The ELCA is a sponsor.

Learn more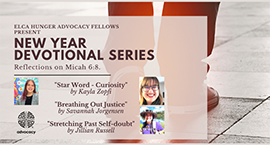 Blog: Devotional Series - Reflections on Micah 6:8
Find three reflections from ELCA Hunger Fellows including reflection questions on "...what is good; and what does the LORD require of you but to do justice, and to love kindness, and to walk humbly with your God'" originally published in January at turn into new calendar year.

Learn more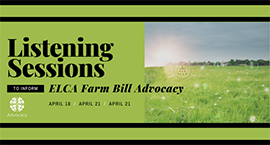 Events: Listening Sessions to Inform ELCA Farm Bill Advocacy
Registration will soon open for April 2023 virtual gatherings to gather input from ministry leaders, members, and others with valuable lived experiences to inform our farm bill advocacy as reauthorization advances. This legislation is critical to addressing conservation and both U.S. and global hunger.

Learn more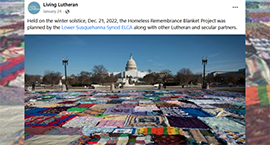 Article: A nation's capitol, wrapped in blankets
Living Lutheran magazine shared a look "behind the Homeless Remembrance Blanket Project" in which ELCA advocacy leaders and multiple leaders from synods, congregations and ministries took part. Blankets were splayed on the U.S. Capitol's West Lawn in Dec. 2022.

Learn more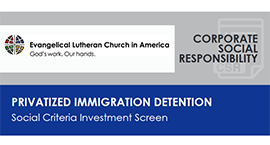 Resource: Privatized Immigration Detention Screen
Action of the ELCA Church Council in Nov. 2022 advanced this new ELCA Corporate Social Responsibility (CSR) resource in addition to updated Issue Papers on Domestic Access to Capital, Genetics, and Sustainability. Check them out from ELCA.org/csr.

Learn more
Dates of Note