Day of Action for Central American Refugees & Migrants, September 13, 2016
Today, community, faith, and migrant rights advocates are gathering at the Lutheran Church of the Reformation in Washington, DC to ask President Obama to protect children and families from Central America.
This event takes place in response to President Obama's planned convening of world leaders for a summit on refugees in New York City, following the related UN Summit for Refugees and Migrants. In this private meeting, the administration will aim to position the United States as leading by example in boosting commitments for refugees globally. We commend the president for wanting to take leadership, but he needs to know that bold leadership must begin at home.
We are calling on the U.S. government to lead by example by changing its response to the humanitarian crisis in our own backyard. Join us as we tell President Obama to take action for Central American migrants and refugees.
Thousands of children, women, and men are being forced to flee their homes due to horrific levels of violence, corruption, impunity, and poverty in El Salvador, Guatemala, and Honduras. Yet in their search for protection in their own country, in the region, or the United States, they are often met with detention, little access to asylum, and deportation back to dangerous situations. While the U.S. government has taken important steps forward in announcing the expansion of refugee resettlement efforts for Central Americans in the region, these will be meaningless if it continues to prioritize strategies of detention, deportation, and deterrence over protection.
The ELCA supports ministries that protect vulnerable people because we are called to walk together with our brothers and sisters experiencing hunger, poverty, and violence. Today, we urge the U.S. government to show the same commitment by properly protecting Central American children and families.
Help us spread the word! Join the Day of Action for Central American Refugees and Migrants. Here is what you can do:
Share on Twitter and Facebook:
Suggested Tweets:
I stand w/ children & families fleeing Central America violence & corruption #ProtectDontDeport #US4RefugeesMigrants
@POTUS lead by example-Protect Central Americans fleeing violence&corruption #ProtectDontDeport #US4RefugeesMigrants
Share the Day of Action for Central American Refugees and Migrants with your friends, families, and colleagues.
Let's stand together for protection for our neighbors and for those in our communities. We thank our cosponsors of today's event: Alianza Americas, Latin American Working Group, Unitarian Universalist Service Committee, American Friends Service Committee, CARECEN, and the Jesuit Conference of Canada and the United States.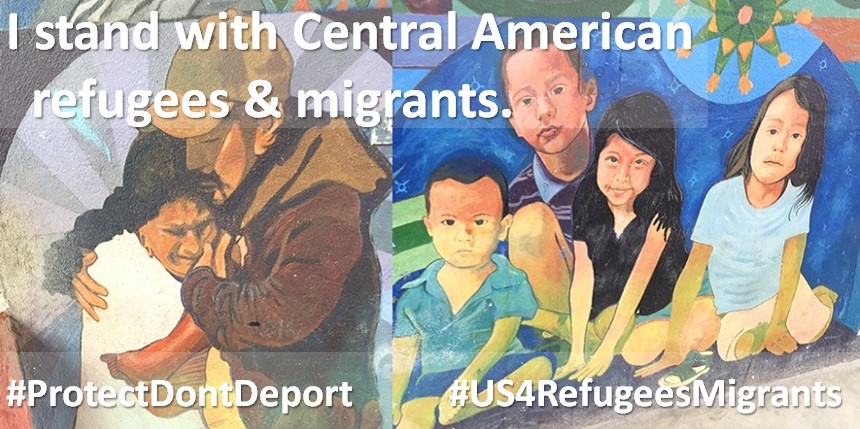 ---
(To view this email in your web browser, click here).


Support ELCA World Hunger | ELCA Advocacy

This email was sent to members and friends of the Evangelical Lutheran Church in America.

To update your email address or your communication preferences, please click here.
To ensure that you continue to receive these emails, please add us to your address book or safe list.
© Evangelical Lutheran Church in America, 8765 W Higgins Rd, Chicago, IL 60631 800-638-3522 | Home | Privacy Policy | ELCA Advocacy