Join us in prayer and action this National Voter Registration Day! Tuesday, Sept. 27
Voting is one way in which we live out our affirmation of baptism to "serve all people, following the example of our Lord Jesus," and "to strive for justice and peace in all the earth." On this National Voter Registration Day, make sure you are registered to vote and check out our Civic Participation and Voter Education guide to find out how you can engage with your community this election season!
Join ELCA Racial Justice ministries for a #ELCAvotes twitter chat on – Sept. 27 9PM Eastern/8PM Central. We'll talk about voting rights and how we are called to ensure that our election systems promote dignity and respect for all of God's children and creation.
Check out the newest ELCAvotes bible study! The second in our series, "From the Margins" focuses on Luke 3:1-6 and guides discussion on our calling to act by speaking out as advocates and engaging in local efforts to guarantee the right to vote to all citizens.
Stay tuned for more ELCAvotes resources in the coming weeks! Don't forget to follow #ELCAvotes on social media!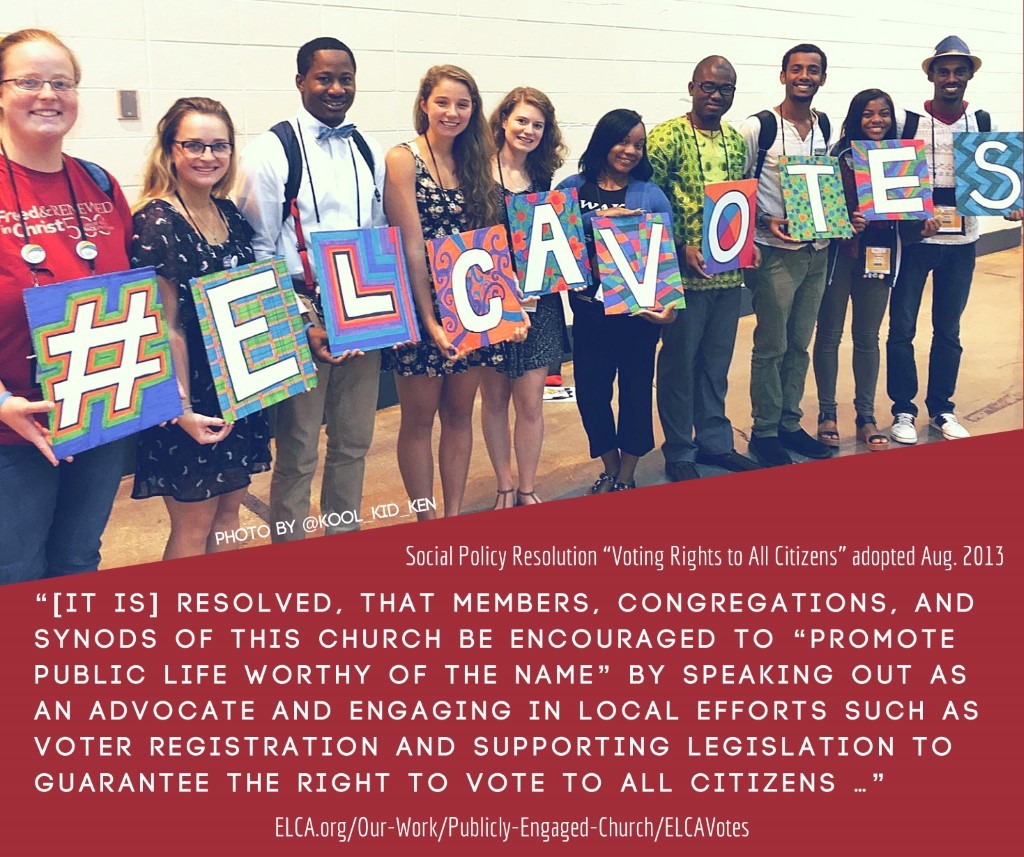 ---
(To view this email in your web browser, click here).


Support ELCA World Hunger | ELCA Advocacy

This email was sent to members and friends of the Evangelical Lutheran Church in America.

To update your email address or your communication preferences, please click here.
To ensure that you continue to receive these emails, please add us to your address book or safe list.
© Evangelical Lutheran Church in America, 8765 W Higgins Rd, Chicago, IL 60631 800-638-3522 | Home | Privacy Policy | ELCA Advocacy