Today, we present our ELCA Advocacy Update for the month of August. Please read below for important information on ELCA Advocacy efforts in Washington, across the country and throughout the world. To read the full version of the update and for more information on advocacy efforts from our Lutheran State Advocacy offices, visit our blog!
Advocacy Update - August 2017
---
ELCA Advocacy, Washington D.C.
FOR SUCH A TIME (AUGUST): This month's day of fasting and action is Monday, Aug. 21. In August, we focus on programs that provide relief from the effects of environmental degradation on the livelihoods of the poorest among us. As Lutherans, we are called to "seek sufficient, sustainable livelihood for all" and to ensure that all of God's children are cared for, no matter where they live.
The U.N. Environment Programme (UNEP) "Healthy Environment, Healthy People" 2016 report showed that "in 2012, an estimated 12.6 million deaths globally were attributable to the environment. The air we breathe, the food we eat, the water we drink, and the ecosystems that sustain us are estimated to be responsible for 23 per cent of all deaths worldwide."
Click here to learn about how the ELCA and the Episcopal Church are coming together to #PrayFastAct "For such a time as this" (Esther 4:14). To prepare for the day of fasting and action, read the joint ELCA Advocacy and Episcopal Church prayer resources and look for action alerts in the coming weeks!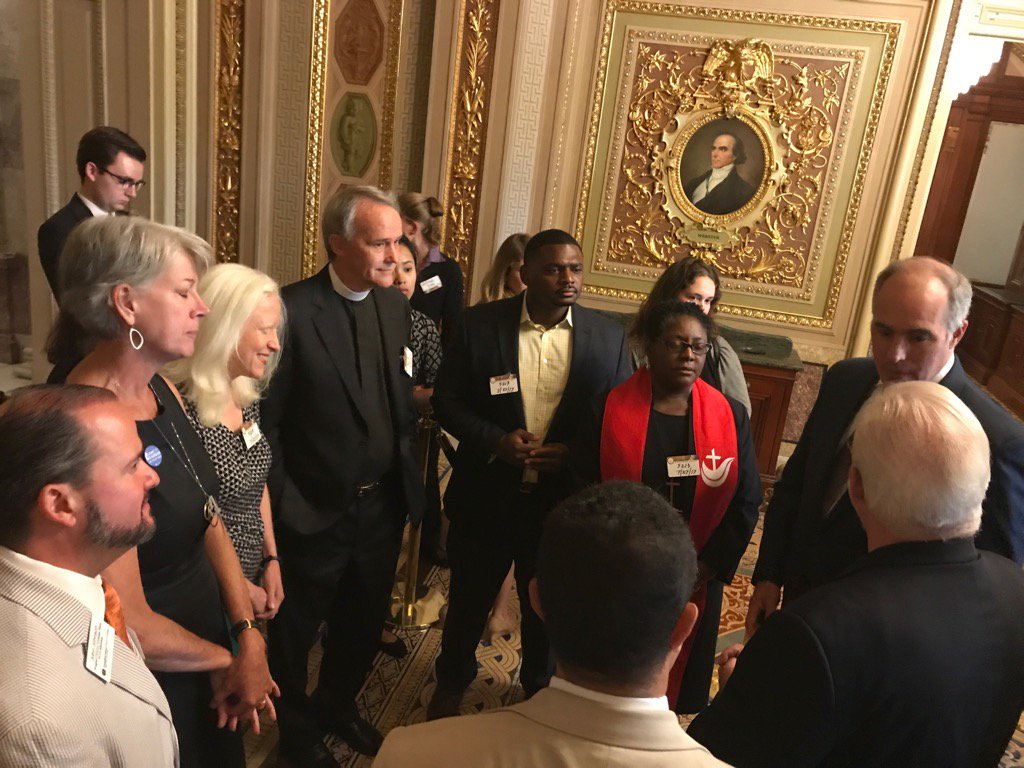 HEALTH CARE: On Friday, July 28, in the early morning hours, the Senate defeated legislation that would have ended health care coverage for millions of seniors, veterans, children and low-income working families. Lutherans sent more than 3,000 emails and calls to their senators, and the impact is now clear.
Our elected leaders must find bi-partisan solutions to the challenges that face our nation. Bi-partisan proposals to address health care are now being offered in both chambers. ELCA Advocacy will continue to track these developments and encourage August recess activities.
FOREIGN ASSISTANCE: On July 19, ecumenical and interfaith leaders from around the country, including ELCA pastors, came to Washington, D.C., to meet with their members of Congress in support of robust funding for foreign assistance. They shared their stories and faith-inspired convictions for why it is important for the U.S. government to maintain its funding support for humanitarian relief and development assistance. The event was organized by the Interfaith Working Group on Foreign Assistance, of which ELCA Advocacy Office is a member.
IMMIGRATION: At the end of July, the House of Representatives passed a spending package that includes funds to build a southern border wall. This bill is not likely to move forward in the Senate.ELCA Advocacy, alongside other Interfaith Immigration Coalition members, has been advocating against funding the radical expansion of detention and deportations of migrants. This isespecially important because the Department of Homeland Security has begun targetingunaccompanied children who have turned 18 and the sponsors of the children fordetentionfor deportation.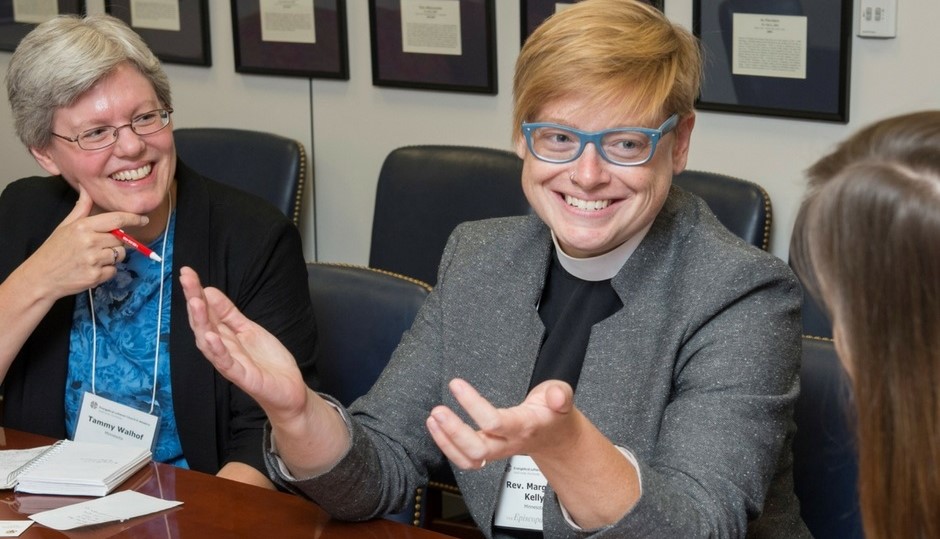 AUGUST RECESS ACTION: Lawmakers will soon depart Washington, D.C., and return to their home districts for the August recess. This is a great time to meet with your members of Congress face-to-face, ask questions and engage on critical issues happening at the national level. Read more about how you can plan for advocacy this summer at the ELCA Advocacy Resource Center.
---
Lutheran Office for World Community
KEY PRIORTIES ON SUSTAINABLE DEVELOPMENT GOALS 5 and 16:
On July 14, the Women's International League for Peace and Freedom held a panel discussion during the forum titled "From Shrinking Spaces to Feminist Movement Building: Key Priorities on SDG 5 and 16 for Sustaining Peace." The panel focused on the role of women's rights nongovernmental organizations
(NGOs) worldwide in the achievement of the sustainable development goals. Lopa Banerjee Bianco, from U.N. Women, spoke about conservatism and fundamentalism undermining social justice and solidarity and about the current resistance to key aspects of women's rights.
Panelists included representatives from WILPF (Women's International League for Peace and Freedom) Sweden, Women for Women International, Women Deliver, and Estudio e Investigation de la Mujer. All panelists spoke of shrinking NGO space in national capacities and the threats of violence toward feminist activists. An emphasis was made on the importance of creating flexible funding towards local NGOs to ensure effective implementation of existing commitments and ensuring the voices of rural and local women are heard.
Mabel Bianco, from the Fundación para Estudio e Investigation de la Mujer in Argentina, discussed NGO involvement with several national review processes, declaring that many countries do not allow for meaningful participation of women's groups.
---
Lutheran state advocacy efforts across the country
Find out all about the vast and incredibly important work and top priorities of Lutheran state advocacy networks across the country by visiting the ELCA Advocacy Blog.
---
(To view this email in web format, click here.)


Support ELCA World Hunger | ELCA Advocacy

This email was sent to members and friends of the Evangelical Lutheran Church in America.

To update your email address or your communication preferences, please click here.
To ensure that you continue to receive these emails, please add us to your address book or safe list.
© Evangelical Lutheran Church in America, 8765 W Higgins Rd, Chicago, IL 60631 800-638-3522 | Home | Privacy Policy | ELCA Advocacy