ELCA Advocacy Alert
Today, we present our ELCA Advocacy Update for the month of June. Please read below for important information on ELCA Advocacy efforts in Washington, across the country and throughout the world. To read the full version of the update and for more information on advocacy efforts from our Lutheran State Advocacy offices, visit our blog!
---
ELCA Advocacy, Washington D.C.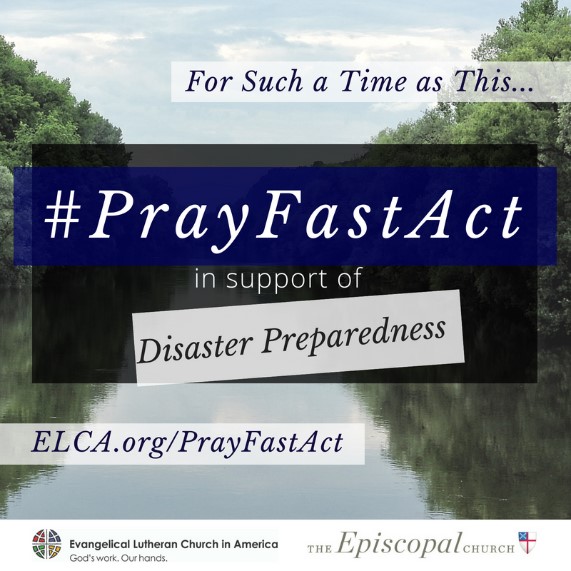 JUNE 21, PRAY. FAST. ACT.: On Thursday, June 21, we join with The Episcopal Church in our monthly commitment to #PrayFastAct. This month our focus is on disaster preparedness. The United States and its territories are facing extreme weather patterns more frequently. In the past year, fires, floods and hurricanes have displaced millions of people, destroyed homes and other structures and led to deaths. Puerto Rico and the US Virgin Islands continue to face many challenges in the wake of Hurricane Maria, including infrastructure damage, a plummeting economy, loss of jobs, closure of schools, cuts in peoples' pensions and other factors that have contributed to a mental health crisis.

ELCA congregations and organizations are among many groups that work tirelessly to help Americans when disaster strikes, but their efforts are often hampered by bureaucracy, which delays getting valuable assistance to those who most need it. The federal government must work to streamline the process for getting aid to those who need it and invest in disaster preparedness to minimize the effects of emergencies and major disasters.

HUMAN RIGHTS: The House of Representatives has passed the National Defense Authorization Act. The bill includes an amendment that imposes new financial and visa sanctions on Myanmar military officials. The amendment also limits U.S. military-to-military assistance to the Myanmar military until it makes progress on human rights and perpetrators of the current crisis are held accountable.

MIGRATION AND AMMPARO: A Health and Human Services (HHS) official testified that the department does not know the whereabouts of approximately 1,400 children who had been in their custody. The children were released to sponsors and the HHS could not contact them in follow-up calls. HHS has the child-welfare expertise to screen children for trafficking. It is important to provide the department the resources needed to follow up with sponsors. Interested advocates can learn more by reading "Explaining policies separating children and families" on the ELCA Advocacy blog.

CREATION CARE: ELCA Advocacy participated in the international meeting to prepare for the December U.N. Climate Change Conference (COP24). This meeting, held in Bonn, Germany, May 1-May 10 was designed to produce a strong foundation for the development of a robust rulebook for implementation of the Paris Agreement at COP24. An additional meeting to build on this work will be held in September in Bangkok. Critical issues discussed included climate finance and raising the commitments of parties to the Paris Agreement in reducing greenhouse gases to minimize the global temperature increase to less than two degrees Celsius. The first Talanoa Dialogue was successfully held at this meeting. The dialogue is a means of facilitating the negotiations and involves sharing ideas, skills and experiences through storytelling in which participants build trust and advance knowledge through empathy and understanding. Interested advocates can learn more about the Bonn meeting and the Talanoa Dialogue process on the ELCA Advocacy blog.

ELCA Advocacy and The Lutheran World Federation are organizing concurrent Talanoa Dialogue sessions to be held as an affiliate event during the Global Climate Action Summit in September in California. Session 1 covers just transition (transitioning to energy sources derived from renewable energy in a manner that creates resilient communities while leaving no one behind). Session 2 addresses the livelihood of people dealing with disasters caused by the increased intensity and frequency of severe weather patterns and storms. Invited participants include representatives from vulnerable regions in the world that are most endangered by climate change.

FARM BILL: The House of Representatives rejected a version of the 2018 Farm Bill last month on a 198-213 vote. While the proposed bill positively addressed ELCA priorities in international food aid and U.S. agriculture, many faith leaders voiced over concerns over cuts and added work barriers to the SNAP food assistance program. The House has planned another scheduled vote on June 22nd, and Senate Majority Leader Mitch McConnell (R-KY) announced plans to make the Farm Bill a top Senate priority in the later summer. Advocates can take action now on faith priorities in the Farm Bill at the ELCA Action Center.
---
Lutheran Office for World Community

CHALLENGES FACING MIGRANTS: Marking the start of the May negotiations toward a U.N. Global Compact for Safe, Orderly and Regular Migration, the ELCA and The Lutheran World Federation (LWF) offered an event on May 14, "Grassroots Perspectives on Migrants' Lived Realities in Different Contexts." The presenters discussed the challenges migrants face during their journey, as well as when they return to their home countries.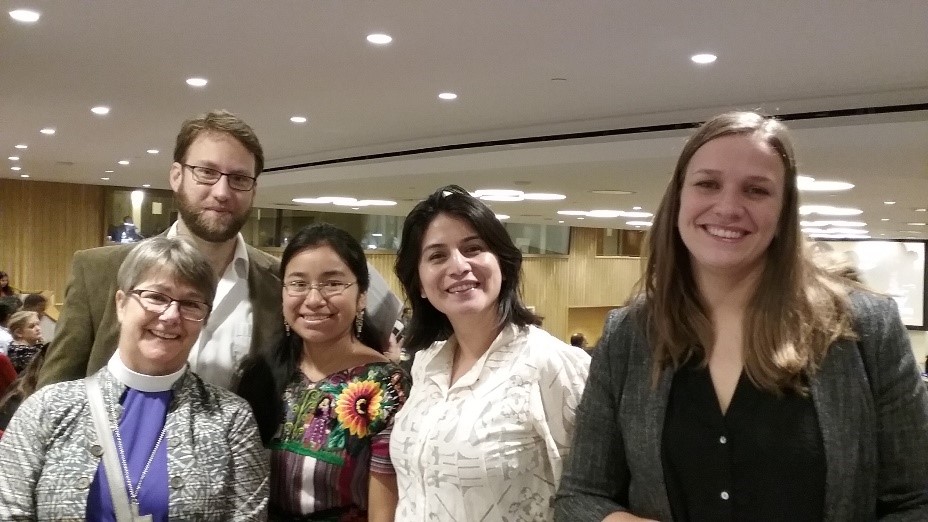 Silvia Raquec Cum (photo, third from right) is program director of Asociación Pop No'j ("weaving knowledge and wisdom" in the Mayan K'iche' language), a non-profit Guatemalan organization. She reported on the causes of migration from Honduras, El Salvador and Guatemala, and the politics of detention and deportation. Asociación Pop No'j works on the return and reintegration of child and adolescent migrants back to their communities of origin.

Katrine Ringhus (far right), advocacy director with LWF–World Service in Colombia, reported on work on the nation's border with Venezuela and on the Pacific coast. LWF offers risk management and human rights assistance to people contending with illegal access routes, inadequate shelter, malnutrition, endemic disease, trafficking, extortion and violence.

Rados Djurović (second from left) is executive director of the Asylum Protection Center in Belgrade, Serbia, a non-profit serving asylum seekers, refugees and migrants. He outlined the legal, psychological and integration and inclusion support offered to migrants while advocating for improving the system and fighting prejudice and xenophobia.

The panel was made possible by a grant from ELCA Global Mission. Also participating were the Rev. Cindy Halmarson (far left), ELCA Global Mission area director for Europe, the Middle East and North Africa; and Alaide Vilchis Ibarra (second from the right), ELCA Advocacy program director for migration policy, who also provided interpretation. The compact under negotiation is expected to be adopted at a U.N. conference in December.


---
Lutheran state advocacy efforts across the country

Find out all about the vast and incredibly important work and top priorities of Lutheran state advocacy networks across the country by visiting the ELCA Advocacy Blog.
---
(To view this email in your web browser, click here.)

This email was sent to members and friends of the Evangelical Lutheran Church in America.
To update your email address or your communication preferences, please click here.
To ensure that you continue to receive these emails, please add us to your address book or safe list.

© Evangelical Lutheran Church in America, 8765 W Higgins Rd, Chicago, IL 60631 800-638-352
Home | Privacy Policy | Sign up for Action Alerts | Unsubscribe