ELCA Advocacy Alert
Today, we present our ELCA Advocacy Update for the month of July. Please read below for important information on ELCA Advocacy efforts in Washington, across the country and throughout the world. To read the full version of the update and for more information on advocacy efforts from our Lutheran State Advocacy offices, visit our blog!
---
ELCA Advocacy, Washington D.C.
JULY 21, PRAY. FAST. ACT.: On Saturday, July 21, we join with The Episcopal Church in our monthly commitment to #PrayFastAct. This month, our focus is on protecting Medicaid, Medicare and Social Security for the future. Medicaid, Medicare and Social Security are the core of our nation's medical and income safety net for the elderly, unemployed, underemployed and disabled. In recent decades, investments in programs that spur the economic potential of individuals has declined, which has led to an increase in the number of people needing the support of these programs. Together, these programs and other safety net measures represent a significant amount of annual federal spending.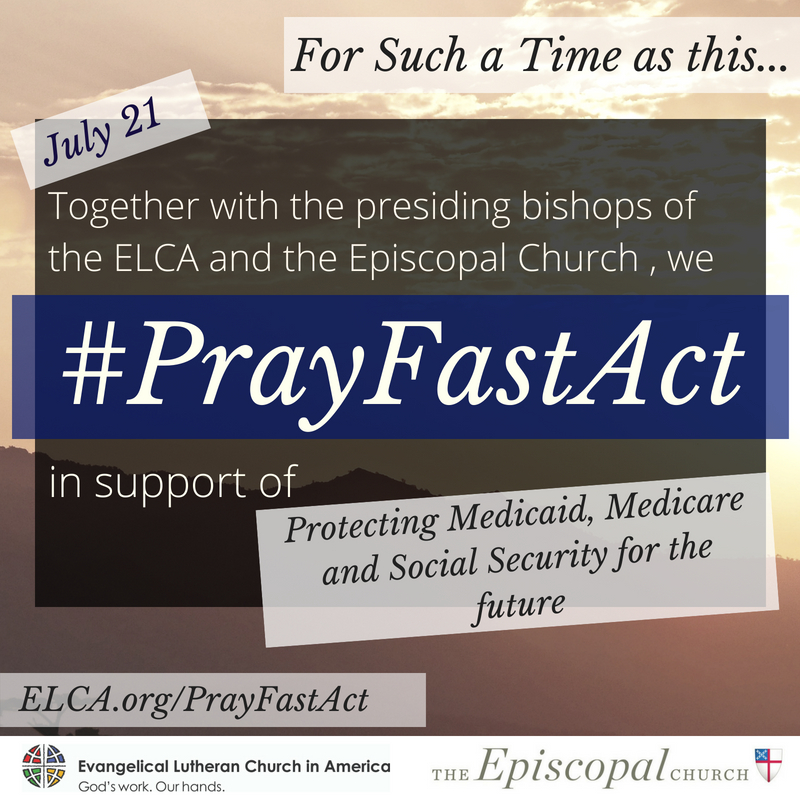 Recently, proposals have been made to change the programs by manipulating eligibility or coverage to reduce spending. Difficult, but responsible, changes require Congress and the nation to invest in programs that reduce the long-term need for these programs and minimize the individual impact of the economic cycle so that these programs can cost less because they are needed less.

FARM BILL: The Senate passed a bipartisan 2018 farm bill last month that ELCA Advocacy supported. The bill will now go to a conference between the House and Senate. ELCA Advocacy plans to work to ensure that the Senate bill prevails over the House bill, which would make cuts to the Supplemental Nutrition Assistance Program (SNAP). Learn more about the Senate and House versions of the farm bill by reading "The Senate Farm Bill: What a Difference Bipartisanship Makes" on the ELCA Advocacy blog.

MIGRATION AND AMMPARO: In June, the House rejected a hardline immigration bill introduced by Rep. Bob Goodlatte, R-Va. Securing America's Future Act (H.R. 4760) would have drastically cut the nation's legal immigration levels and provided funding for building a border wall, while also offering temporary status for "Dreamers." ELCA Advocacy opposed the bill. The House has yet to vote on a proposed compromise immigration bill. You can take action on this issue by visiting the ELCA Advocacy Action Center.

President Trump signed an executive order to address family separation at the U.S.-Mexico border. The executive order fails to end the zero-tolerance policy that criminalizes parents and expands family detention. ELCA Advocacy will continue to stand against family detention, advocating instead for community-based alternatives to detentions. Lutheran Immigration and Refugee Service has piloted alternatives for families.

INTERNATIONAL FOOD ASSISTANCE: On June 20, the Senate passed the Global Food Security Reauthorization Act. The legislation calls on Congress to extend the authority of the Global Food Security Act of 2016 for a few more years. The act established a comprehensive U.S. global food-security strategy that has enabled the U.S. government to improve the way food and nutrition programs are implemented and accounted for. As a result, some developing countries have been able to increase agricultural productivity and education opportunities. These programs help farmers feed their families and communities and contribute to their countries' economic growth. The House has yet to pass its version of the bill.
---
Lutheran Office for World Community

RIGHTS OF PERSONS WITH DISABILITIES: U.N. Secretary-General António Guterres spoke marking the start of this year's Convention on the Rights of Persons with Disabilities on June 12 to a conference of signatories to the convention, which he described as one of the most widely ratified international human rights treaties. The convention reaffirms that people with disabilities are entitled to the same treatment as everyone else.

People with disabilities still often face overt discrimination, stereotyping and lack of respect for their basic human rights – with women and girls disproportionately affected. The secretary-general said that "every minute, more than 30 women are seriously injured or disabled during childbirth," and that women and girls with disabilities face multiple barriers to accessing education, health services and jobs.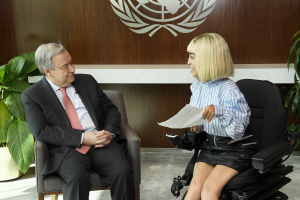 "Without women's empowerment and gender equality, millions of women will continue to suffer from double discrimination based on both their gender and their disability," he added. The secretary-general also spelled out the need for new approaches for and with people with disabilities, including mainstreaming disability in national legislation and development strategies.

Catalina Devandas Aguilar, U.N. special rapporteur on the rights of people with disabilities, noted that while progress has been made, it is not reaching everyone in the same way. "There is a great demand for public interventions of better and higher quality," she said. "Only by working together will we fulfil our common goal of leaving no one behind."

PILGRIMAGE TO PEACE: On June 22 the Church Center at the United Nations was the site of Churches for Middle East Peace's Pilgrimage2Peace panel discussion hosted by the U.N. NGO Working Group on Israel-Palestine, of which Lutheran Office for World Community is a member."Peacebuilding and Constructive Conflict in Israel, Palestine, and the broader Middle East" featured Georgette Hazboun Rabadi, principal of the Evangelical Lutheran School in Beit Sahour, Palestine, and Mara Lee, global executive director of the OneVoice Movement. Kyle Cristofalo, director of advocacy and government relations with churches for Middle East Peace, was the moderator.

Rabadi works to empower students and families in the region from all religious, economic and social backgrounds. She educates children and young people about global issues, connecting them with their peers locally and internationally, and inspiring them to make a difference. Her school offers student exchange programs in Europe and a local school-to-career program with guest speakers offering Palestinian narratives along with the opportunity to work on projects. She reports that when Palestinians are asked what they want, the response is: "We want the right to live with dignity."

Lee works with the OneVoice Movement, an initiative supporting grassroots activists in Israel, Palestine and globally who are working to build human infrastructure to create the necessary conditions for a just and negotiated resolution to the Israeli-Palestinian conflict. In conversation about conflict resolution, the initiative's goal is to be pro-solution, pro-peace, and pro-humanity.
---
Lutheran state advocacy efforts across the country

Find out all about the vast and incredibly important work and top priorities of Lutheran state advocacy networks across the country by visiting the ELCA Advocacy Blog.
---
(To view this email in your web browser, click here.)

This email was sent to members and friends of the Evangelical Lutheran Church in America.
To update your email address or your communication preferences, please click here.
To ensure that you continue to receive these emails, please add us to your address book or safe list.

© Evangelical Lutheran Church in America, 8765 W Higgins Rd, Chicago, IL 60631 800-638-352
Home | Privacy Policy | Sign up for Action Alerts | Unsubscribe