ELCA Advocacy Alert
Today, we present our ELCA Advocacy Update for the month of September. Please read below for important information on ELCA Advocacy efforts in Washington, D.C., across the country and throughout the world. To read the full version of the update and for more information on advocacy efforts from our Lutheran State Advocacy offices, visit our blog!
---
ELCA Advocacy, Washington D.C.
ADVOCACY ON "GOD'S WORK. OUR HANDS." SUNDAY: On Sunday, Sept. 9, we look forward to celebrating the ELCA volunteer day of service and action, "God's work. Our hands." Sunday. This year, ELCA Advocacy has shared advocacy resources, including a sample letter to Congress supporting the Voting Rights Advancement Act and a Voting Rights Fact Sheet. Be sure to check out all the resources and activities on the "God's work. Our hands." Sunday toolkit page.

VOTER REGISTRATION: Tuesday, Sept. 25, is National Voter Registration Day. The day draws attention to voter registration deadlines across the nation and encourages prospective voters to sign up, check their status or volunteer for further democratic participation. Additionally, new #ELCAvotes resources will be released later this month, including:
a new Bible study that looks at instructive parallels between the early church community found in Acts 4 and how we vote our faith values in society; and

a voting guide for people facing homelessness, including congregation resource tips on facilitating voter registration.
Be sure to check ELCA Advocacy social media in the coming weeks for #ELCAvotes engagement around #ELCAvotes!

FARM BILL UPDATE: It is a crucial moment in the legislative process for the farm bill as it moves to the conference committee, and many important policies dealing with local efforts against hunger and international food security are at stake. A farm bill fact sheet on international food aid will be distributed by ELCA Advocacy later this month. Additionally, faith leaders from certain states are joining a petition to Congress, urging their lawmakers to support a farm bill that reduces hunger and improves nutrition.

"PUBLIC CHARGE" RULE: Both ELCA World Hunger and Advocacy are monitoring a rule change being considered by the Department of Homeland Security. Historically, the U.S. government has restricted immigration applications if it is determined an immigrant would be a "public charge," that is, they would likely depend on cash assistance or long-term medical care. The rule expansion will raise barriers for people to obtain and maintain legal immigration status in the U.S. if they or their dependents access public benefits.

A post to the ELCA World Hunger blog written by an Advocacy staff member highlights the short period for public comment. Those of us active in hunger-related ministry are encouraged to consider the potential impact and prepare to comment in opposition to this rule.
---
Lutheran Office for World Community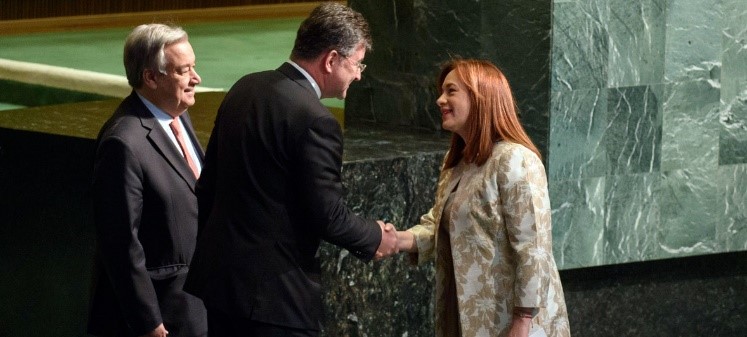 UN Photo/Loey Felipe
Ms. Espinosa (right) is congratulated by Miroslav Lajčák, President of the 72nd session of the General Assembly, following her address to the General Assembly. Also pictured is Secretary-General António Guterres.
U.N. GENERAL ASSEMBLY: On June 6, the General Assembly elected Ecuadorian Foreign Minister María Fernanda Espinosa Garcés president of its upcoming 73rd session. She is only the fourth woman to hold that position and the first since 2006. Espinosa Garcés noted that she is also the first woman from Latin America and the Caribbean to preside over the Assembly.

Espinosa Garcés has previously been minister of foreign affairs and human mobility, minister of defense, and coordinating minister of cultural and natural heritage. She was the first woman to be named permanent representative of Ecuador in New York, after having served as ambassador in Geneva. She said, "As you know, I am also a poet as well as a politician. As such, I am fully aware that no view is useful if we do not see, and no word has value, if we do not listen. I will be ready to listen to you all and work for, and with you." Read her vision statement here.

Espinosa Garcés has published more than 30 academic articles on the Amazon River, culture, heritage, development, climate change, intellectual property, foreign policy, integration, defense and security. She has also published five volumes of poetry and received the Ecuadorian National Poetry Prize in 1990.

UPCOMING GENERAL ASSEMBLY SPECIAL EVENTS:
Sept. 5 High-level forum on a culture of peace
Sept. 24 High-level meeting: Nelson Mandela Peace Summit
Sept. 25 – Oct. 1 General debate
Sept. 26 High-level plenary meeting to commemorate and promote the International Day for the Total Elimination of Nuclear Weapons
Sept. 26 High-level meeting on the fight against tuberculosis
Sept. 27 High-level meeting to undertake a comprehensive review of the prevention and control of non-communicable diseases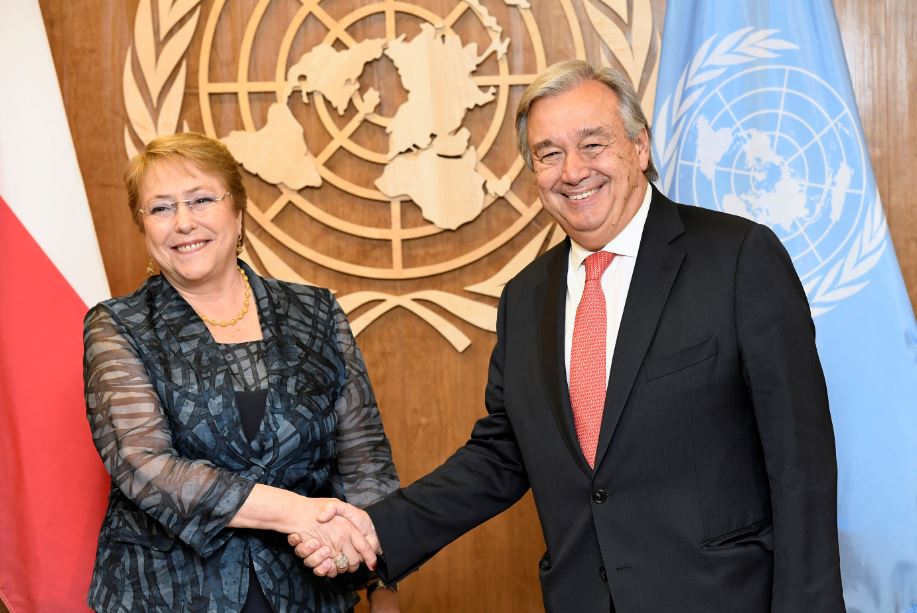 NEW APPOINTMENT TO U.N. HIGH COMMISSIONER FOR HUMAN RIGHTS: U.N. Secretary-General António Guterres has appointed Michelle Bachelet of Chile the next U.N. High Commissioner for Human Rights. In September, she will succeed Zeid Ra'ad Al Hussein of Jordan.

Bachelet ended her second four-year term as president of Chile in March 2018, having already held the position between 2006 and 2010. The first woman elected to Chile's highest office, after her first term, she joined the United Nations as the first executive director of the newly established U.N. Entity for Gender Equality and the Empowerment of Women (U.N.-Women).

A long-time human rights champion and ground-breaking leader, Bachelet is a pediatrician who began her government career as an adviser in the Ministry of Health, rising quickly to become the first woman to lead the ministry in 2000 and its Defense Ministry in 2002.

She became involved in Chilean human rights activism in the early 1970s. She and her parents were political prisoners, and her father, a general in the air force, died in prison. After their release, Bachelet and her mother spent several years in exile. She returned to Chile in 1979, finished school and became a pediatrician and public-health advocate. Bachelet also studied military strategy at Chile's National Academy of Strategy and Policy and at the Inter-American Defense College in the United States.
---
Lutheran state advocacy efforts across the country

Find out all about the vast and incredibly important work and top priorities of Lutheran state advocacy networks across the country by visiting the ELCA Advocacy Blog.
---
(To view this email in your web browser, click here.)

This email was sent to members and friends of the Evangelical Lutheran Church in America.
To update your email address or your communication preferences, please click here.
To ensure that you continue to receive these emails, please add us to your address book or safe list.

© Evangelical Lutheran Church in America, 8765 W Higgins Rd, Chicago, IL 60631 800-638-352
Home | Privacy Policy | Sign up for Action Alerts | Unsubscribe