Policy NOTES

Third proposed rule change to SNAP benefits announced
On Oct. 1, the United States Department of Agriculture proposed another rule that would cut SNAP benefits, this time by a total of $4.5 billion over five years. The cut would result from changes in how states take households' utility costs into account in SNAP benefits determination. ELCA Advocacy opposes this new proposed rule.

Augusta Victoria Hospital
Since September 2018, congressionally allocated U.S. aid has been redirected from hospitals in East Jerusalem to other projects. Augusta Victoria Hospital (AVH) and the other members of the East Jerusalem Hospitals network are critical to the region's health care and well-being. ELCA Peace Not Walls asks advocates to urge lawmakers to reverse this unilateral policy decision.

Robust and inspirational interfaith climate consultation
Organized by the ELCA and planning partners, "Climate Emergency: Faith-based Organizations Raising Ambition — Leaving No One Behind" drew representatives from more than 45 groups, including World Council of Churches, Islamic Relief, AME Zion Church, and the Buddhist and Catholic faiths. The consultation, held Sept. 24, amplified the momentum of the UN Climate Change Summit and youth-led actions around the world.

Young-adult faith leaders make Hill visits
An advocacy day for young-adult faith leaders was co-hosted by ELCA Advocacy, Bread for the World, Church World Service and other ecumenical partners in the last week of September. The participants, including ELCA young adults, met with their members of Congress to urging support of foreign assistance development and humanitarian funding.
Action Alerts



SUPPORT AFFORDABLE HOUSING AND HOMELESS PROGRAMS
Lawmakers have passed a temporary extension of the 2020 federal budget through November 21 that could strain housing resources if enacted for too long.

URGE CONGRESS TO SUPPORT THE KEEPING GIRLS IN SCHOOLS ACT
Girls in low-income countries continue to face many barriers to education, including poverty, gender-based violence, child marriage, early pregnancy and conflict.



PEACE NOT WALLS - SEPTEMBER
Members of Congress must be asked to release funds allocated for Augusta Victoria Hospital and other Jerusalem hospitals on a humanitarian basis, in order to save lives.



THANK YOU!
Your engagement in public discourse and action informed by your faith makes a real difference for many of us who face hunger, poverty, homelessness and injustice. Invite others to join the ELCA Advocacy network.


Featured Resources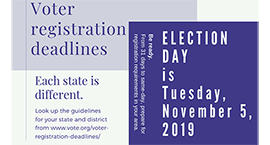 Blog: Registering: Love in action
More people registering to vote means more people with representation, notes ELCA Hunger Advocacy Fellow Tessa Comnick. At her polling place, she begins, "I was the youngest person by maybe 30 years, sitting in a dilapidated American Legion hall at 5 a.m. preparing to start a 15-hour shift." Find out your location's voter registration deadline from vote.org/voter-registration-deadlines/.

Learn more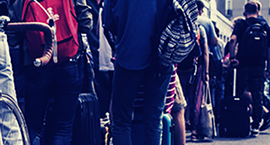 Blog: Trending chicken sandwich and voter registration
Practical tips for registering voters (bring pens!) are included in this description of a creative opportunity on a sidewalk near his home taken by the Rev. Lamont Wells, who writes, "I am so glad to help those in my community get prepared to change the world around them."

Learn more
Dates of Note


CONCORDIA COLLEGE STUDENTS IN D.C.
A group from Concordia College in Moorhead, Minn., will visit the ELCA Advocacy office in Washington, D.C. to discuss faith-based advocacy and prepare for visits on Capitol Hill.


"FORGOTTEN LUTHER" SYMPOSIUM
Hosted by ELCA World Hunger and Global Mission, this event reminds us of Martin Luther's conviction that God's gift of grace has implications not just for individual lives but for ways we live together on this earth. More >>