Welcome to Michelle Moyer's Personal Page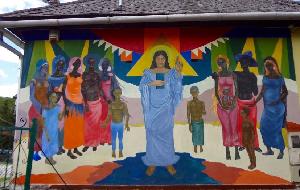 Support my call to serve as a volunteer for the ELCA's Young Adults in Global Mission program!
It is with great excitement that I have accepted the opportunity to serve as a Young Adult in Global Mission volunteer in Central Europe starting in August. I will be one of more than 85 young adults serving on behalf of the ELCA in 11 different country programs around the world!
During my time in college, I have started to feel as though my life and my faith are two separate parts of me. Taking a call with the YAGM program is my way of intentionally reuniting faith and life through accompaniment. Though I have much to learn about Central Europe, I am so excited to dive into the new language, culture, and year of service!
Possible site placements include working with the systemically oppressed Roma people, volunteering at local homeless or youth outreach centers, teaching English, or even helping at a daycare! I'll find out my exact site location in July, so keep following this page for updates! To read more about YAGM's work in Central Europe, click here: https://www.elca.org/en/Our-Work/Global-Church/Global-Mission/Young-Adults-in-Global-Mission/Central-Europe
To follow my journey via my blog, visit: https://michellemoyagm.wordpress.com
As part of accepting this call, I am asked to raise at least $5,000. Please help me reach my goal by supporting my fundraising efforts with a donation today. Through your donation, you join me on this journey as I grow in my own faith and walk in partnership with our global companions. I am thrilled to think about the ways in which this year will form and transform me.
If you'd like, consider sponsoring a day in Central Europe! For a suggested donation of $20-$50, choose your favorite day of the year, such as the birthday of you or a loved one, and I'll send you a postcard from Central Europe detailing what I did that day and sharing the experience you have helped to make possible.
Thank you for joining me and for your support – every gift truly matters!
About Young Adults in Global Mission

The ELCA's Young Adults in Global Mission program provides young adults, ages 21-29, the opportunity to grow in their faith and work in partnership with our global companions. Young adults in the program serve in churches, schools and social service ministries. Currently the program is engaged in work in Argentina/Uruguay, Australia, Cambodia, Central Europe, Jerusalem/West Bank, Madagascar, Mexico, Rwanda, Senegal, Southern Africa and the United Kingdom.
The total cost for one young adult in the program is $15,000. Each young adult is tasked with raising a minimum of $5,000 to help support their year of service. The ELCA commits to raising the additional $10,000 per volunteer through generous congregations and donors. If more than $5,000 in gifts is received, the additional funds will be help to support other young adult volunteers and ensure that there is a sustainable source of revenue for future the Young Adults in Global Mission program.
View More
Achievements
No Badges Have Been Earned
Fundraising Honor Roll
Denny Thompson and Patti Antonio

I Gave
If you think this page contains objectionable content, please inform the System Administrator.