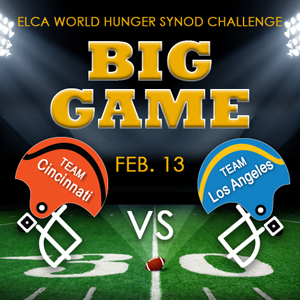 ELCA World Hunger Big Game Synod Challenge 2022
It's game time! While you are cheering on your team and celebrating with family and friends - let's help tackle hunger together.
From kickoff to final whistle on Big Game Sunday, Team Cincinnati and Team Los Angeles will seek to outdo one another for the sake of the gospel. The fans that donate the most through their team page to ELCA World Hunger by the final whistle on February 13 will help their synod(s) take home the title of ELCA World Hunger Champion - regardless of the outcome of the football game.
Donate to this main team page if you'd like to support the overall effort, or be sure and donate to your team's specific page by copying and pasting the links below into your browser:
Team Cincinnati: http://support.elca.org/goto/Cincinnati
Team Los Angeles: http://support.elca.org/goto/LosAngeles
Check back on this page and follow up on social media for up-to-the-minute updates on game day. Thank you so much for your support - every gift truly matters.
About ELCA World Hunger
As a long-standing presence in communities in more than 60 countries, including the United States, ELCA World Hunger is deeply relational and rooted in listening. We steer clear of "one-size-fits-all" answers and have enormous respect for local context, local expertise and local ingenuity. Your gifts support tailored solutions – in areas like health, water, income, education, food security, and more – that can put an end to hunger for the long term.
The Evangelical Lutheran Church in America (ELCA) is one of the largest Christian denominations in the United States with more than 3.8 million members in nearly 10,000 congregations across the nation and the Caribbean.
View More
Bishop Eaton
Bishop Bos
Bishop Dillahunt
View More

Team Cincinnati
$8,349

Team Los Angeles
$3,766
Achievements
No Badges Have Been Earned
Team Honor Roll
Ascension Lutheran Church, Thousand Oaks
Mount Cross Lutheran, Camarillo
Jordan Lutheran Church, Orefield
St. Matthias Lutheran Church, Easley, SC
Ed Cloughessy / Beverly Kinney
The Rev. Mark and Kari Olsen
In honor of Pastor Rob Bork and family
Bishop Tracie Bartholomew and Pastor Dan Whitener
Recent Donors
Anonymous
Ascension Lutheran Church, Thousand Oaks
Larry Donner
Mount Cross Lutheran, Camarillo
Rex & Kathy Rothgangel