Support Katie's YAGM year in Mexico!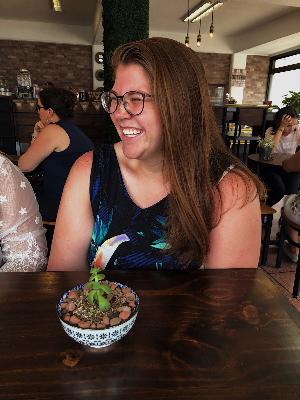 Welcome! ¡Bienvenidos! I am beyond excited to announce that I have accepted to call to serve as a Young Adult in Global Mission volunteer in Mexico beginning in August. I will be one of more than 70 young adults serving on behalf of the ELCA in 9 different country programs around the world! Although some of the more specific details of the experience are still to come, I will be serving in the spirit of accompaniment, walking alongside global companions in a manner that practices mutuality, interdependence and solidarity. Each of the volunteers serving in Mexico will be staying with host families who will help guide us as we go on this journey.
I would like to invite you all to accompany me on this journey to Mexico by supporting me however you feel called, whether that be financially, emotionally, or spiritually. Your support makes this experience possible.
As part of accepting this call, I am asked to raise at least $5,000. Please help me reach my goal by supporting my fundraising efforts with a donation today. Through your donation, you join me on this journey as I grow in my own faith and walk in partnership with our global companions. I am thrilled to think about the ways in which this year will form and transform me.
Thank you for joining me and for your support – every gift truly matters!
My blog ( https://mylittlecorneroftheworld.travel.blog/ ) will be another way that you will be able to accompany me as I depart on this journey.
About Young Adults in Global Mission
The ELCA's Young Adults in Global Mission program provides young adults, ages 21-29, the opportunity to grow in their faith and work in partnership with our global companions. Young adults in the program serve in churches, schools and social service ministries. Currently the program is engaged in work in Argentina/Uruguay, Australia, Central Europe, Jerusalem/West Bank, Madagascar, Mexico, Rwanda, Southern Africa, and the United Kingdom.
The total cost for one young adult in the program is $15,000. Each young adult is tasked with raising a minimum of $5,000 to help support their year of service. The ELCA commits to raising the additional $10,000 per volunteer through generous congregations and donors.
View More
Achievements
No Badges Have Been Earned
Fundraising Honor Roll
Susan and Brent Turnipseed
Nancy Swanson & Chuck Dupraz