Brittany in Australia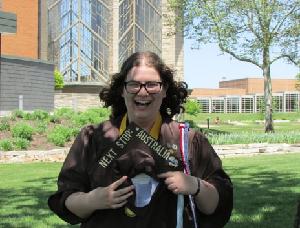 "Tell me, what is it you plan to do with your one wild and precious life?" - Mary Oliver
It is with great excitement that I have accepted the opportunity to serve as a Young Adult in Global Mission volunteer in Australia starting in August. I will be one of more than 85 young adults serving on behalf of the ELCA in 11 different country programs around the world!
A little bit about me: As a graduate of Valparaiso University, I have earned a Bachelor of Science degree Elementary Education with minors in Theology and Chemistry. I have deep love for teaching and working with children as well as international service. I am also a deaconess student with the Lutheran Deaconess Association, a program that prepares individuals to live out a diaconal calling to word and service. Through YAGM, I will be serving in Cairns at Peace Lutheran College, a local boarding school, and Trinity Lutheran Church. I am so thrilled to learn more about the communities that I will be serving!
As part of accepting this call, I am asked to try to raise at least $5,000. Please help me reach my goal by supporting my fundraising efforts with a donation today. Through your donation, you join me on this journey as I grow in my own faith and walk in partnership with our global companions. I am thrilled to think about the ways in which this year will form and transform me.
As a part of my fundraising, I would like to invite you to "sponsor me for day" from August 23rd, 2017 to July 15th, 2018. You can simply let me know what date you would like to sponsor me on and I will add it to a calandar that I am bringing with me to Australia. On your day, I will be thinking and praying for you! I hope that this could be a small way for us to stay connected despite the distance. Even though I will be far away, I want to remember the people that have walked with me and supported me along the way!
Thank you for joining me and for your support – every gift truly matters! Please reach out to me if you have any questions about my year of service.
Brittany
About Young Adults in Global Mission
The ELCA's Young Adults in Global Mission program provides young adults, ages 21-29, the opportunity to grow in their faith and work in partnership with our global companions. Young adults in the program serve in churches, schools and social service ministries. Currently the program is engaged in work in Argentina/Uruguay, Australia, Cambodia, Central Europe, Jerusalem/West Bank, Madagascar, Mexico, Rwanda, Senegal, Southern Africa and the United Kingdom.
The total cost for one young adult in the program is $15,000. Each young adult is tasked with raising a minimum of $5,000 to help support their year of service. The ELCA commits to raising the additional $10,000 per volunteer through generous congregations and donors. If more than $5,000 in gifts is received, the additional funds will be help to support other young adult volunteers and ensure that there is a sustainable source of revenue for future the Young Adults in Global Mission program.
View More
Achievements
No Badges Have Been Earned
Fundraising Honor Roll
Lawrence Chew and Dannette Lowry
I Gave
If you think this page contains objectionable content, please inform the System Administrator.