Welcome to Tabby and Tony's Personal Page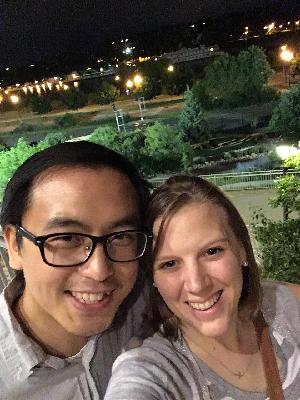 Welcome and Thank You for Your Support!
We are excited to announce an exciting development in our lives together! We have answered a call to accompany the ELCA church in their global mission through their Young Adults in Global Mission (YAGM) program. We will be two of more than 85 young adults serving on behalf of the ELCA in 11 different country programs around the world. Starting in August 2018 we will be spending a year's time in Central Europe (either Hungary or Serbia). We have always known that we wanted to ground our lives together as a couple and build the foundation of our family in values that are important to us such as service and faith. Although we are unsure of our exact community or work we will be doing, we hope to be involved in community building and education projects, working and living alongside the peoples of Central Europe.
The goal of this mission is not to convert or preach, but to be amongst and servant to each other in community and build sounding relationships. For these missions, the ELCA spends $15,000 per year to support one young adult. As part of this amazing program each volunteer is asked to raise $5,000 ($10,000 for a couple) towards the YAGM program to support their time of service. In supporting this program and mission YOU become part of our mission! Whether it is a monetary support or thoughts and prayers, you will walk alongside us as we walk alongside God's people. We give you our deepest thanks in supporting us in our journey.
We invite you to continue reading for insight into our individual faith journeys and the YAGM program below.
Tabby and Tony
Tabby's Faith Journey
I was a teenager when I discovered I was a piece of a larger puzzle, a part of something bigger than myself. His name was Leo. He grew up and lived in Honduras in a one room cement house with his wife and daughter. I had traveled to Honduras with a group from my church thinking I would do some good things and change some Honduran's lives forever. What I did was little. What I learned was more. Leo and I were building a bench for a table that would be given to a family in need. As a five foot, one-hundred-pound teenager, construction work and carpentry were not my strong suits, but Leo handed me the hammer anyway. I eyed the nail Leo was holding and raised the hammer high. WHACK. My target was missed. Instead, I had brought the hammer down hard on Leo's thumb. He gave a cry and cradled his hand for a moment while I profusely apologized, red in the face from embarrassment. Feeling guiltly, I offered the hammer back to Leo. But Leo did not reach for the hammer. Instead, he looked me strait in the eye and said to me "Tabby, I trust you". He reached for another nail. And there he was. God. Jesus in the flesh. Laying his hand in front of a swinging hammer for me. It was on this trip that I realized we, as God's people, need to be with each other, supporting each other, in relationship with each other because that is where we can find Him. I hope and pray in this journey that I can find Him, experience Him, learn from Him. But more importantly I hope and pray that others can find Him in me. This is not my mission. This is not mine and Tony's mission. This is our mission-as a people to find Him amongst each other, to show Him to one another, to walk with him with each other. It will not be easy. It will not be comfortable. But it will be worth it. It will be worth it to share Him with each other. Even if it means getting whacked with a hammer.
Tony's Faith Journey
Faith and Service have been integral values in my personal life and now, shared life with my wife, Tabby. To me, faith exists in that boundary between what is known and mystery, between life's happiness and pain. It is that which cannot be quantified or held as absolute, but experienced and trued as we venture forth in time, space and experience the human condition. Part of my faith journey is accompanied by service. Service has been an important aspect of my upbringing and faith journey, but also my personal heritage.
Being of Hmong background, the Vietnam War displaced many Hmong people throughout the world. My life would be completely different today without Lutheran Social Services who welcomed and sponsored the Hmong people to the United States. It is with this act of faith, service and kindness that opened the door of opportunity for my family to live the American dream and for me to return this favor to the ELCA church, United States, God and the universe. It is my strong belief that we can build a better tomorrow by investigating one's own faith and be servant to each other as we exist, live and care for one another.
About Young Adults in Global Mission
The ELCA's Young Adults in Global Mission program provides young adults, ages 21-29, the opportunity to grow in their faith and work in partnership with our global companions. Young adults in the program serve in churches, schools and social service ministries. Currently the program is engaged in work in Argentina/Uruguay, Australia, Cambodia, Central Europe, Jerusalem/West Bank, Madagascar, Mexico, Rwanda, Senegal, Southern Africa and the United Kingdom.
The total cost for one young adult in the program is $15,000. Each young adult is tasked with raising a minimum of $5,000 to help support their year of service. The ELCA commits to raising the additional $10,000 per volunteer through generous congregations and donors. If more than $5,000 in gifts is received, the additional funds will be help to support other young adult volunteers and ensure that there is a sustainable source of revenue for future the Young Adults in Global Mission program.
View More
Achievements
No Badges Have Been Earned
Fundraising Honor Roll
Faith Lutheran Church, Morris
Zach, Erica, Levi, & Hailey
Kelvin and Connie Tschetter
James and Sarah O'Halloran
Pam Dawson and Bruce Schmidt
Tory, Derek, Karly, Brandon
I Gave
If you think this page contains objectionable content, please inform the System Administrator.