Support our Matching Grant fundraiser!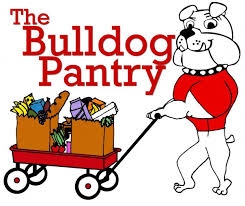 "And taking the five loaves and the two fish, [Jesus] looked up to heaven, and blessed and broke them, and gave them to the disciples to set before the crowd. And all ate and were filled. What was left over was gathered up, twelve baskets of broken pieces" (Luke 9:16-17).
As part of the Evangelical Lutheran Church in America's (ELCA) response to the COVID-19 pandemic, Lutheran Campus Ministy is partnering with ELCA World Hunger to raise funds for our feeding ministry through a Daily Bread Matching Grant.
We need your help to make sure we generate the maximum amount of support for our neighbors during this difficult time. ELCA World Hunger is kickstarting our fundraiser with a $500 grant. With your help, we can raise $500 or more to match the grant from ELCA World Hunger. We have until Sunday, April 19 to meet our goal. Every gift truly makes a difference — thank you for your support!
About the Bulldog Panty:
We are a student run food pantry seeking to establish a partnership between students, faculty/staff & community at Fresno State in order to:
-Provide food to students and families in need.
-Engage students through volunteering.
-Provide resources and materials in partnerships with other non-profits.
-Maintain sustainability through donations and community partnerships.
In doing so we aspire to help the community one neighbor at a time.
View More
Achievements

Fundraising Honor Roll
We're all in this together